Guest blog post by – Tara Borejka @tarab_cb
What could be more fun than a road trip on a Saturday in August, especially when you live in NYC and realize that you have not left the island since June! My coworker Holly and I rented a car and headed to the Highlands Clam Festival in Highlands, NJ. Now neither of us city girls drives more than a few times a year so this would be an adventure.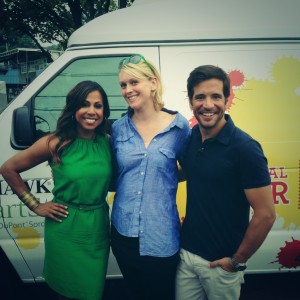 The weather was a little rainy, but we picked up the car and with GPS in hand, hit the road. I was looking forward to not only eating a lobster roll at the Fest, but also checking out the Mohawk Flooring "License to Spill" demo. Have you heard about this magical SmartStrand stain resistant carpet? Well prepare to have your mind blown!
We made it the festival without getting lost ….woo hoo…right around noon. The "License to Spill" van was easy to spot so that was our first stop, food could wait. I was so excited about this demo y'all. I have been hearing tales of red wine and soy sauce being removed from this carpet with nothing more than a bit of water. Now, I have had more than my share of red wine spills, one involving an entire glass on a white linen sofa and that stuff is not easy to get out.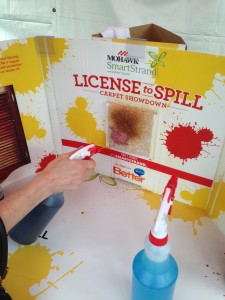 We arrived at the tent and were greeted by the super friendly Mohawk crew as well as Better Show host JD Roberto and HGTV interior designer Taniya Nayak.  There were squares of the Mohawk SmartStrand carpet ready for staining. They had 3 spray bottles each with a different mess maker – soy sauce, blue Powerade & my BFF red wine. I decided I would spray my carpet square with all three, might as well go for it. When would I have this chance again?  Before I sprayed the Powerade one of the guys decided it was not blue enough so he added blue food coloring to it! I sprayed all 3 stain makers on my carpet square and then presented it for stain removal.  A ten-year-old boy picked up a bottle of water and started pouring it on the carpet. That's right WATER, nothing else and within minutes ALL of the stains were gone! I was amazed.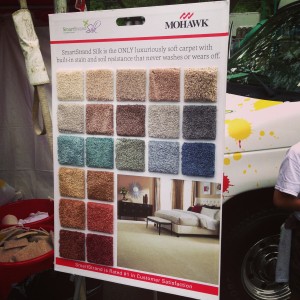 With all of this talk of food stains, I was of course getting hungry!  Lucky for us they had chef Jay Cosgrove from Bahr's Landing making his Seven Seafood Chili Dog topped with Coleslaw made from his father's recipe!  Instead of a hot dog, he used a piece of fish.  It was delicious!  Now, chili is a pretty nasty stain for carpet and Better Show host JD Roberto asked me if I'd like to put the Mohawk SmartStrand to the test with it.  Of course!!!  With cameras rolling I "accidentally" spilled the chili dog on the carpet square and guess what – with only water and a cloth, the chili came right out!!!
However, the magic of this carpet does not stop there my friends.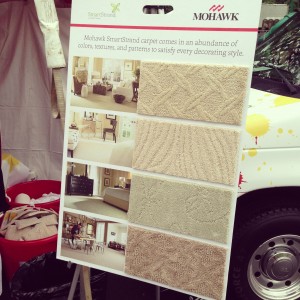 This is the softest carpet I have ever felt. It is made from 100% SmartStrand Silk (BCF Triexta).  Don't let the softness fool you into thinking this carpet is less durable.  It is extremely durable since they make it with more strands than other stain resistant carpets on the market.
It is also the only carpet on the market that will not become discolored from pet stains or bleach.  It has a LIFETIME stain, soil and full pet resistance warranty and a 25-year abrasive wear and fade resistance warranty.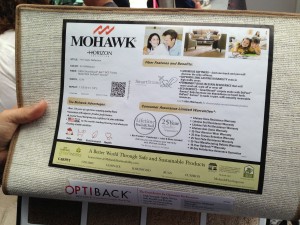 For those of you worried about harmful chemicals, you can rest easy because all of these stain resistance benefits are possible without any chemicals being applied to the carpet fibers before or after manufacturing.  The stain resistant properties are natural to the fiber!  Unlike most carpets that have stain and soil treatments applied topically to the fiber, the SmartStrand stain and soil resistance is permanent and  will never wear off.  Plus, you can remove stains with just water or in some cases a mild soap, do not use any carpet cleaning agents on it.  It just not necessary!
After we had our fill of staining fun, I grabbed a lobster roll and we hit the road back to NYC. Funny enough, I ended up back near the Clam Fest the next day and had dinner at Bahr's Landing after a day at the beach!  Eating seafood on the water was a perfect ending to the weekend!
You can enter for a chance your own 6'x9' SmartStrand Silk bound carpet rug!
Check out more photos from the adventure in my Google + album!