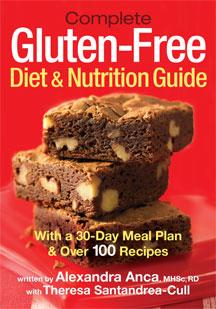 Like many people in the US these days, I packed up and moved into the Gluten Free camp shortly after Christmas.
I am not a celiac, but avoiding gluten has meant a positive change in my skin, hair, health, digestion, mental clarity, and energy level. Yee-haw!
I do wonder if this has to do with gluten or more with the ways grain products are processed and enhanced with additives in our modern society.
The Complete Gluten-Free Diet and Nutrition Guide: With a 30-Day Meal Plan and Over 100 Recipes provides a wealth of information about:
Celiac disease basics, from what causes celiac disease to how it is diagnosed to what effect the disease has on an individual's quality of life.

Managing celiac disease, including dietary therapies, food guides, specific foods to avoid, foods to enjoy, nutritional supplements and living with celiac disease.

Gluten-free meal plans, including a 30-day meal plan that provides an entire month of meals and snacks in an easy-to-understand format.

Healthy gluten-free recipes, including breakfasts, breads and muffins, soups, salads, pasta, meat, poultry, vegetarian and vegan entrees and desserts .

Complete Gluten-Free Diet & Nutrition Guide provides dietary and nutritional guidelines along with 100 tantalizing recipes that can be enjoyed by everyone, not just those who are trying to manage celiac disease.
The recipes! With deliciousness like Chocolate Hazelnut Biscotti, you don't have to feel sorry for yourself!
…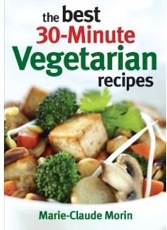 There are hippie vegetarians who live on organic farms, and then there are the rest of us.
The Best 30-Minute Vegetarian Recipes
is great for your "Meatless Mondays" or full time vegetarians.
Amongst the 150 recipes are plenty of low fat and low sugar options.
Pick from your category of need:
Starters

salads and snacks

Soups

Pasta and grains

Beans, lentils and tofu

Sides

Desserts
…
If you are vegan, or even if you are NOT vegan, but you want to eat things like: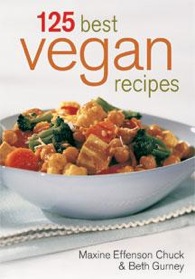 Spicy Black Bean Dip

Hot and Sour

Udon Noodle Soup

Corn Meal Waffles with Wild Blueberry Compote

Penne with Sauteed Mushroom

Marsala and Caramelized Onion

Spaghetti and Soy Meatballs

Pistachio Biscotti

Cranberry Orange Scones
Then you should check out the plethora of deliciousity within the binding of 125 Best Vegan Recipes.
If you are new to being vegan and need guidance, there is nutritional information and advice for stocking a vegan pantry and a vegan freezer. You will be in the club in no time!
Visit the publisher: www.RobertRose.ca Twitter: @RobertRoseBooks Facebook: Robert Rose Inc.
….
Cooking stuff. It is important for reducing your food budget, and for making sure your family has healthy meals.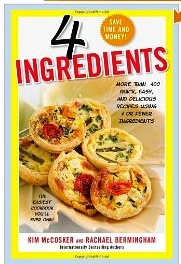 But seriously who has the time, and the grated nutmeg, to make elaborate recipes?
4 Ingredients: More Than 400 Quick, Easy, and Delicious Recipes Using 4 or Fewer Ingredients by Aussie mommies Kim McCosker and Rachael Bermingham has simple ideas for appetizers, breakfasts, lunches, side dishes, vegetarian entrees, dinners, desserts, and even things with special appeal to children!
And? Taking it the extra simple mile…the only measuring utensils required to make the recipes in 4 Ingredients: More Than 400 Quick, Easy, and Delicious Recipes Using 4 or Fewer Ingredients are 1 teaspoon, 1 tablespoon, and 1 cup.
Four ingredient might sound unglamorous, but look at some of the dishes: Antipasto Tarts, Carrot & Coriander soup, Apricot Chicken, to Tandoori Lamb, and Orange & Almond Cake…hot diggity simple cookin' dog!
To learn more about Kim McCosker and Rachael Bermingham, visit www.4ingredients.com.au/.
..
We knew and loved him as the athletic A.C. Slater on Saved By The Bell.
But now he is actually some real person named Mario Lopez who grew up and became a dad? Weird.
Also he wrote a cookbook called Extra Lean Family: Get Lean and Achieve Your Family's Best Health Ever. Mr. Belding is going to FLIP OUT!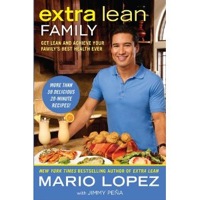 Extra Lean Family: Get Lean and Achieve Your Family's Best Health Ever endeavors to broaden the spectrum of foods your family eats and teach how to enjoy food and maintain your best health by cooking healthy, quick, and delicious meals.
• Detailed food planning tools-including weekly grocery lists-to ensure efficient food prep to jumpstart the week and keep your health on track

• More than 40 appetizing and exciting recipes that can all be prepared in 20 minutes or less

• Dozens of simple and satiating snack options that can combat hunger between meals and keep your metabolism moving fast

• Food journal and nutritional guidelines for different body types and ages.
Extra Lean Family: Get Lean and Achieve Your Family's Best Health Ever is a game plan to allow everyone in the family to enjoy good food, without the guilt, for life.
…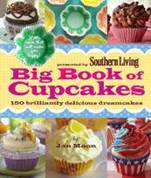 Cupcakes are the new donuts.
No, for real.
Maybe 5 years ago, donut shops were popping up all over the place, now we have zaniness like "boutique cupcake bakeries" (say what?!).
Presented by Southern Living Big Book of Cupcakes: 150 Brilliantly Delicious Dreamcakes gives you the tools to make your own cutie pie cupcakes. Why pay $4.95 for one at some hoity-toity bakery when you can make a bunch and possibly eat them all by yourself?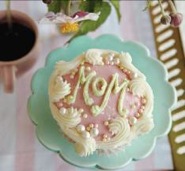 Or you could share. Lets be open-minded about this.
This book has all of your old favorite cupcake options like carrot cake, and new awesome combinations like Carmel Sea Salt Mocha. I just drooled a little bit when I typed that.
The book has basic cupcake making advice (Cupcake 101) and cupcake ideas for every season and special occasion.
Cup those cakes, sister!