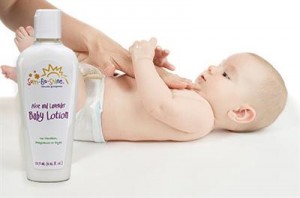 Hi Bloggy Giveaways Carnival friends! I'm CanCan, and this is my blog, MomMostTraveled.com!
I'm an eco-conscious Mama, and I also have a little one with painful eczema.
I'm always on the lookout for organic products that might give little baby Deeds some relief from his red, dry, senior-citizen skin.
I was excited to learn about Sum-Bo-Shine, a mom-founded company that makes naturally pure bath and body products for babies!
Deeds and I tried the baby lotion and Naturally Pure Diaper Ointment.
The lotion really does feel "Naturally Pure"; the scent is subtle, and the lotion absorbs quickly and easily into the skin without leaving a greasy residue.
Sum-Bo-Shine Aloe Lavender Organic Baby Lotion is cruelty free, certified vegan, and contains no artificial fragrances or dyes! You can feel at peace when using this fabulous lotion on your little treasure!
I put lotion on Deeds after his bath, and I will guiltily admit that I use this lotion a lot, too! In fact, just as I sat down to write this review I felt compelled to give my thirsty skin a drink of Sum-Bo-Shine goodness!
Don't tell Deeds that Mama stole his lotion.
The Naturally Pure Diaper Ointment has a pleasant scent and a light texture. I like that it contains the healing properties of vitamin E, lavender and chamomile, and it doesn't cause staining like some other diaper ointments.
While it is called "diaper ointment", this salve could really be used on anyplace that needs a little TLC! I'm thinking it would be ideal for wind-chapped faces or rough hands.
I am really pleased with Sum-Bo-Shine and can tell that these products are lovingly made.
The packaging and the high-quality products remind me of special bath products that I splurge on at local craft fairs! Fabulous quality, made by someone who knows and cares about what they are doing! What rare and special attributes!

Sum-Bo-Shine donated a variety of their products to an adoptive family for our Celebration of Adoption. Thank you, Sum-Bo-Shine, for your generosity!
Sum-Bo-Shine would also like to give one Mom Most Traveled reader some of their terrific products!
To enter for your chance to win, visit Sum-Bo-Shine and comment here telling me a product you would love to have and why!
One winner will be chosen at random.
This giveaway is open to US residents.
This giveaway will close on February 1, 12 midnight CST.
*Congrats to Kaycee!*
*Congrats to