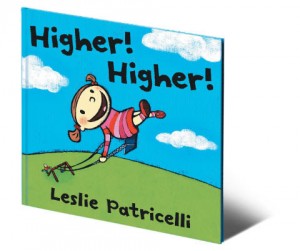 Leslie Patricelli has become a popular talent in the world of children's books, with vividly illustrated titles like Yummy Yucky and Quiet Loud.
Patricelli's trademark characters have adorably huge heads and endearingly wide mouths.
The illustrations are open and clean, and the carefully chosen minimalist narratives give the cute characters surprising depth.
Higher! Higher!
is Patricelli's newest title, focusing on a darling girl enjoying some fun on a playground swing.
Higher! Higher!

is a hardcover book that tells a sweet story in just a few words.
As the little girl instructs her father to push the swing Higher! Higher!
, she imagines herself swinging as high as the treetops, as high as a build, over the mountains, up in the clouds, and all the way to outer space!
I think these high-swinging aspirations will strike a chord with any adventurous preschooler!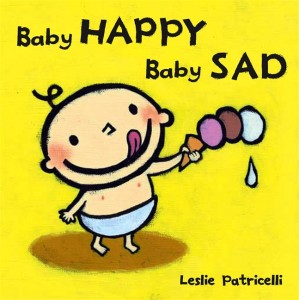 Baby Happy Baby Sad is a board book that chronicles the highs and lows of a cute big-headed baby's day.
Baby Happy Baby Sad is a fun way to introduce the concepts of emotion to a toddler. Is there anyone who can't empathize with some of these contrasting situations?
Example: the happiness of having a beautiful balloon, followed by the despair of losing it! Or the glory of a towering ice cream cone, only to have it fall to the ground, uneaten?
This baby reminded me of my own very emotional 19-month-old son, Deeds.
And also? That dropping the ice cream scenario actually happened to me when I was 5. I was also in Disney world, where ice cream is not cheap. Baby Sad. Baby very very sad.
Leslie Patricelli has written ten books published by Candlewick Press, ready to add art and smiles to your little one's library!


Many thanks to Team Mom for bringing this wonderful author to my attention!