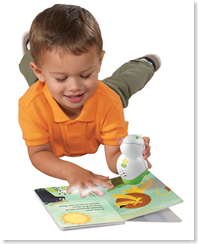 I am honored to be one of LeapFrog's Ambassadors of Summer Reading.
This is a fabulous program to get LeapFrog technology and content (Tag and Tag Junior readers, plus books for each platform) into the hands of local libraries and daycares.
LeapFrog allowed me to help my community by giving me sets of FIVE LeapFrog® Tag Reading Systems and 10 books, as well as three LeapFrog Tag Junior Book Pals to donate to places that could use them!
Times have gotten tough, and libraries and schools are suffering budget cuts.
Through LeapFrog I was able to bless Childcare Resources of Alabama with LeapFrog products for their resource library, a place where underfunded daycares (both home and public) and check out materials to help give the children in their care an strong educational foundation.
I also donated items on behalf of LeapFrog to Homewood Public Library (video to be filmed Thursday, August 2!) and Creative Montessori School .
I'm a big fan of all of these places because they have been instrumental in my life both in my childhood and as a parent of two children. I'm so glad that I can honor them with these great reading kits from LeapFrog!
Creative Montessori School says "THANK YOU LEAPFROG!"