Laos is a fantastic place to visit. Places like Bangkok or Chiang Mai, Thailand, Hanoi or Ho Chi Minh City, Vietnam have their charms but are undeniably saturated with western influence.
Even after 9 years in Laos, I can still say that it is relatively "off the map". In Luang Prabang, in Pakse, and yes, even in Vientiane, you can still experience true Laos.
Lao people are the true treasure of Laos, but when I am hosting guests, I still want to show them sights and get out and do stuff.
In Vientiane, sightseeing takes only about 3 days and you are pretty much finished.
So I was THRILLED to see that a new Lao Cooking School had opened offering one day classes (in English) to tourists.
The Lao Experiences cooking class is $35 a person, and it includes transportation to and from the school, originating in the downtown area, and of course you get to eat the food you make, and take home a little mini recipe book.
We made steamed fish wrapped in banana leaves, Lao tomato salsa, Lao egglant dip, sticky rice, grilled veggie kabobs, and mango with sticky rice dessert. We saw demonstrations on making Lao green papaya salad, grilled chicken, and grilled fish.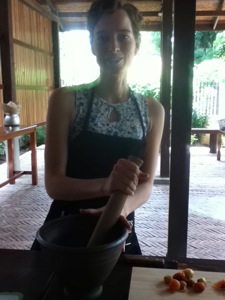 Jojo and I went together and I let him help me when it was safe and appropriate.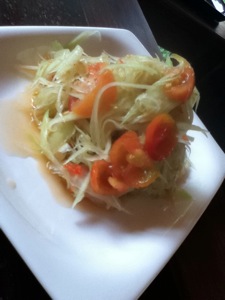 Quickly grilling the banana leaf. I forget why. Maybe to make it more pliable? It got shinier.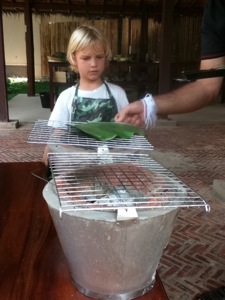 Watching sticky rice cook in the steam basket. That is my boss holding him. I think they bonded!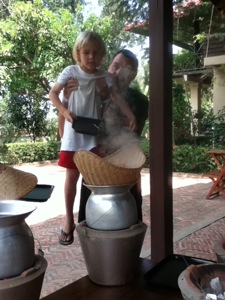 Carefully filling palm leaves with fish for steaming.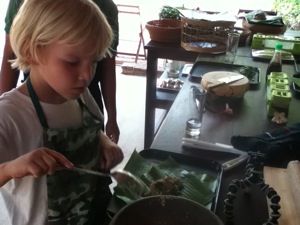 He loves cooking!
Mango and sticky rice with coconut milk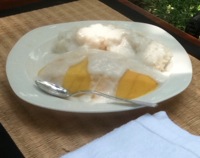 Look Mama, a mango on a tree!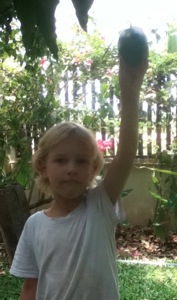 Eating the "fruits" of our labor.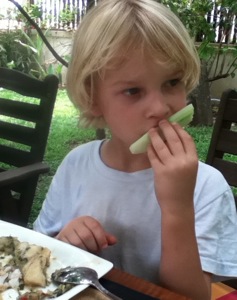 A butterfly landed on his head and stayed there for ages!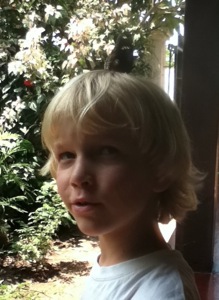 For more fabulous photos, go look at my friend Sharon's blog about her Lao Experiences cooking experience.
Jojo and I had a really good time together at Lao Experiences. It was fun to do something that we were both interested in, and I really am confident that I can make this stuff at home now!
The food was good and the instructors were sweet and patient. Class size is really small so you feel free to ask for help and as a bonus, you get to conversate with the Lao instructors.
Visit www.Lao-Experiences.com for more info about taking the class.