We have a fun toy that I keep indoors for active play even when the weather is bad.
Our Labyrinth Balance Board is an easy concept for children ages five and older, but a challenge for everyone who give it a try!
The Labyrinth Balance Board is designed for children 5+. It comes with three colorful balls (one red, one blue, and one yellow) that you place in the grooved labyrinth and navigate by shifting your weight and tilting the board back and forth.
Jojo (age 5) enjoys balancing on the board and I also find it hard to resist. The balance board is REALLY hard for me! I always whip the ball around too fast and miss my intended target. This game definitely takes patience and really builds your core strength.
The three balls are a little smaller than ping-pong sized and have to be hidden from 2-year-old Deeds while not in use. If he finds them, he puts the entire ball inside of his mouth and this is a choking hazard.
However, while supervised, Deeds enjoys trying his balancing skills on the Labyrinth Balance Board just like big brother Jojo!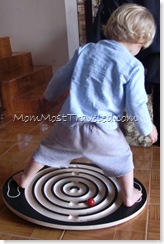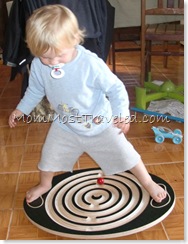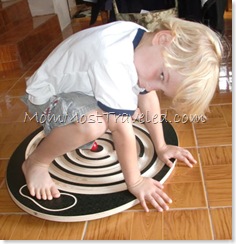 Both of the boys also like to invent "new" ways of balancing. I see them both trying the "on all fours" approach, which seems quite effective (just don't pinch your fingers).
The top of the board is natural wood colored and black.
The bottom of the board is green, and Jojo likes flipping it over to use the underside of the board as a nice level surface for setting up action figures and LEGO cities.
I was going to take a picture of MYSELF on the balance board, but decided that the kids were way cuter.
I am very pleased with the Labyrinth Balance Board; the icing on the cake is that it is a "Made in USA" wooden product, made with FSC certified wood!
The Labyrinth Balance Board retails for $79.95 at Museumtour.com
Enter to win your own Labyrinth Balance Board!
1.) To enter to win, visit http://www.museumtour.com and tell me another product that you like!
Please don't just comment with "Enter me" or "Sounds great". Those entries are not eligible to win.
One winner will be chosen by random number generator.
This giveaway is open to those with a US mailing address.
2.) Email subscribers get an extra entry for as long as their subscription is active.
Already a subscriber? Leave me a separate comment on this post to let me know you're interested in this giveaway.
Want to subscribe? Just click here:  Subscribe to Mom Most Traveled by Email (Only verified subscriptions are entered for all the giveaways.)
3.) Tweet about this giveaway (include a link to this page and @MomMostTraveled ) and comment here with your Twitter name.
4.) Blog about this giveaway, including a link to this post. Leave me a comment with the link so I can check your post!
This giveaway will close on November 30, 2009, 11:59 pm CST.