Kidz Bop 19 is being released on January 18, 2011!
I might be part hipster but my children AND students love KIDZ BOP so I am now a fan totally unironically and unabashedly.
Kidz Bop 19 has 16 of today's most popular tracks including "Club Can't Handle Me" and "The Only Exception."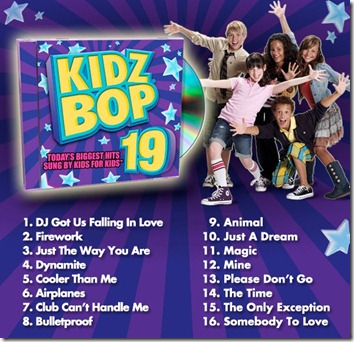 I will be honest, I don't know what today's hottest tracks are until they come out on KIDZ BOP.
Although I have heard "Cooler Than Me" many times, because it comes on no matter what clothing store I am in at the mall. I think Forever21 has it on repeat.
I'm starting to think I am cooler than he or she (I can't really place a gender on the voice, sorry artist.)
I can attest that Kidz Bop 19 gets the dance party started for 3 to 6 year olds. I can't vouch for other age groups but it is extremely entertaining to watch the littlies feel the music.