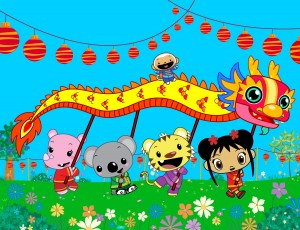 I worked in China as a teacher in 2002-2003. I had never studied Mandarin or even heard it very much before going to China.
Do you want to know a language that is hard to learn? I know one. Called Mandarin.
I decided that if I ever had children, I would do my best to teach them Mandarin from a young age.
Even before Jojo could speak English I bought all kinds of Mandarin picture dictionaries and puzzles. But the difficulty lies in the fact that I don't speak Mandarin and I don't have native pronunciation!

So, I have been really excited about the Ni Hao, Kai-Lan tv series on Nick Jr. that teaches Mandarin words in a way that children ages 2 to 5 can easily retain them!
Ni Hao, Kai-Lan: Kai-Lan's Great Trip to China not only teaches Mandarin words, it also contains a few lessons about Chinese culture, as Kai-lan, Rintoo, Tolee, and Hoho visit YeYe's sister Gu Nai Nai in China!
The title episode, Kai-Lan's Great Trip to China focuses on overcoming fears of trying new things.
They try new unfamiliar foods (noodles) and take off their shoes to wear slippers inside the house. One of the animal friends initially resists. As a parent of a preschooler, I found it to be an entirely realistic scenario.
Through a catchy song, "We're Going To China", we learn the Mandarin word for "happy".
The next episode on the Ni Hao, Kai-Lan: Kai-Lan's Great Trip to China DVD is Rain or Shine. When a rainy day looks like it might spoil their outdoor fun, Kai-lan brainstorms some fun things that she CAN do in the rain.
The third episode on Ni Hao, Kai-Lan: Kai-Lan's Great Trip to China is called The Ant Playground. Ants have actually built a tiny playground, but they forgot the swing. Kai-lan and her friends learn to see things from a different perspective so that they can help the ants in time for the grand opening of the playground!
I'm a fan of Kai-lan and I'm glad to see her have a chance to explore China.
I would love for Kai-lan to get to tour famous sites in China, like the Forbidden City, the Great Wall, the Summer Palace, the Temple of Heaven, and Emperor Qín Sh?huáng Líng's Terracotta Army way out in Xi'an!
If you can't take your preschooler to China this year, (or even if you can), check your library for Ni Hao, Kai-Lan: Kai-Lan's Great Trip to China
, or get your own copy on Amazon.