Total amount of checked luggage: 3 bags, 51.7 kilograms.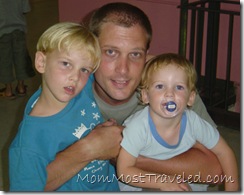 Carry on bags: one toddler in an Ergo, one purse, a backpack, and a rolling suit case.
In the Beginning:
Sunday, 8:58 PM, before boarding: Boys walk around airport. It is already an hour past their bed time.
When we go through customs/passport control, Jojo begins to cry because he will miss his Papa. He runs back and give Papa a tearful hug. I fight back my own tears and try to comfort him and urge him through the metal detector.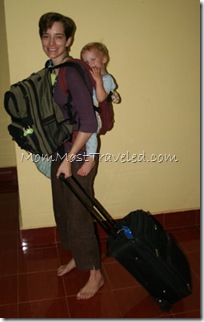 9:53 Boarded plane. Deeds has infant ticket. In a group of 3 seats, I have the middle seat ticket and Jojo has the window. I sit Deeds in the middle and sit on the aisle while I organize our stuff. Man comes up and wants his seat, the aisle seat. Summons flight attendant without talking to me first. On plane there are about 10 empty rows, and 20 with only one passenger each. They make me move over so we are now 4 people in one row. German man tries to stick up for me in protest. Stewardess says we have to wait until everyone boards. 30 seconds later Deeds wants to nurse. Then they tell me that WE can move to another row (instead of the solo middle aged Chinese man moving, which would be way easier). I gather up the zoo and move. Give each boy a lollipop as we taxi and take off. Jojo is crying on and off about missing Papa :(.
…
Jojo falls asleep. I spend the hour flight wrestling with Deeds over the contests of the boxed meal, including when he "pours" the juice, spilling it. He has a poo diaper that I change with NO changing table in the airplane bathroom. It takes me about 20 minutes to clean him up. Maybe 3 or 4 baby wipes.
…
When we land it is past 11pm. We make our way to the day room for our 6 hour layover. Aussie couple carries my backpack and rolling suitcase off of the plane (thanks!). Ride shuttle for 10 minutes to get to correct side of the airport. Our check in counter is closed, so that means I have to go back 2 hours before our 5 am flight to try to check in at 3 am.
Meet a mom with a 15 month old and 3 1/2 year old while standing in line for the elevator. She says they are flying alone from New Zealand to Europe (I think she said Scotland), for a total of 36 hours.
…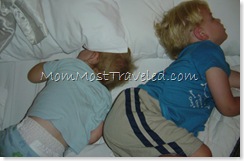 Check in to day room after waiting in line about 30 minutes with Deeds and Jojo running all over the place. Have to leave line several times to keep Deeds from running away. It is after midnight when the boys fall asleep.
I get up at 2:30 am and shower. Go to NWA check in counter at 3 am. No one else in line, and workers are really friendly. They arrange an empty seat on our flight so that Deeds can have his own seat. I wake up the boys at 4am. Deeds cries and says, "Nooo!'. Put BabyLegs on both boys.
Jojo is so tired. I carry him on my back in the Ergo while holding Deeds in one arm as he sits inside my purse. Push luggage cart. Check out of dayroom and get key deposit back, $20 woohoo!
Metal detector people are nice. They try to help. One lady picks up Deeds to help but he isn't having it. After metal detector, I carry Deeds on front in the Ergo while Jojo walks to gate G3. NWA lady pulls our rolling suitcase and escorts us to front of the line. Each bag is inspected by hand. Next, a man carries my backpack and suitcase to the boarding gate. Sets stuff down near a seat and we wait to board. When time to board, again someone takes my suitcase and we follow him to the front of the line and board. He puts suitcase in overhead bin and leaves. Stewardess comes and says if we need her to clean baby bottles or if I need to go to the bathroom, I can press the call button and she will help.
In seat, friendly man sits down next to us. He is from Hawaii and says he has 4 grand kids. He is wearing a shirt that I think my dad has. Later he falls asleep and starts snoring, which also reminds me of my dad. But the similarities end at the apparel and apnea connection.
This is a 9 hour flight.
I set up Jojo with the TRAYble cloth and give him a wrapped present that contains some pencils and crayons. He opens them and is excited  but doesn't do the activity book. I give Deeds his sponges. He unwraps them and then "washes" my face and the back of the seat. I nurse him to sleep during take off.
6:24 am, breakfast is served. I eat and the boys sleep through it all. By 6:45 I'm finished. Deeds wakes up around 7:15 and eats but Jojo sleeps for a good while.
It is lucky that the friendly man is very large. He blocks the space so Deeds can't exit. When I have to change Deeds' diapers a few times, I climb over sleeping Jojo.
Deeds and I work out a system in the airplane bathroom that allows me to "go". I fold down the changing table and he stands on top of it. I hunch down in order to be able to use the toilet, while protectively holding my hands in the air in case Deeds tumbles off. We play in the bathroom a bit, making faces in the mirror. Deeds tries to climb on the handicap handles. I figure the bathroom is actually a good place for him to play since he isn't bothering anyone.
Our seats on this flight have personal video on demand screens. I try to get Deeds interested in a movie but he really isn't into TV. My stress comes from trying to stop him from opening and closing the tray table hundreds of times, because I'm worried about it jarring the person in the seat in front of us.
When Jojo finally wakes up I show him his breakfast. I think he ate maybe one roll, some milk, and a dry mini box of Cornflakes. He watches a movie on demand, Madagascar part 2.
The rest of the flight is filled with more of the same. The stressful times are when the boys are too loud, just having fun, and I worry about disturbing others. Really they are quite good. No one runs away. I didn't notice any glares on this flight.
When we arrive in Tokyo's Narita airport, we have to go through another metal detector for some reason to enter the transfer lounge. It takes a really long time, there are hundreds of people waiting. It is HOT and the lines are SLOW. I'm wearing Deeds on my back. He keeps laying his head on my back sleepily. Jojo is in good spirits and helps me by inching the rolling suitcase forward as we creep through the line.
Of course once at the metal detector I have to take off the baby carrier, take out my laptop, etc. It is an ordeal but we do it. When we are finished we walk towards our gate.
I'm not sure what the local time is so I don't know exactly how long we have until our flight boards. I think my watch says 12:30 (Bangkok time).
I ask a Chinese girl what time it is and she says 2:33. I thought she would be a good person to ask because I heard her speaking both English and Chinese. I look at my watch and she says, "well, maybe mine is a few minutes fast". That made me laugh.
In the terminal I see a sign for a nursery. I think that this might be a good place to take the kids, maybe there will be a family bathroom and I can pee (I really have to pee!). In the South Korean airport there is a nice facility for kids with a bit of play space and a microwave for heating baby food. Well, in the Narita Airport in Japan, this is a NURSERY and nothing else. I walk in to a woman hooked up to a breast pump, then hurriedly rush Jojo out.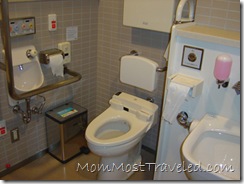 I decide to stand in line at our gate and make sure I don't need to check in again. While I'm waiting, Jojo and Deeds stand by the window about 30 feet away from me, watching the airplanes. They look so cute together.
When I confirm that I have all of my boarding passes and  everything, I decide to resume the search for a bathroom. Jojo decides he will stay at the gate with my luggage because he wants to finish his snack. I take Deeds to the bathroom with me. We find a really high tech family bathroom with all kinds of buttons…it's like the Jetsons.
There are urinal-like contraptions of all sizes lining the walls and I can't figure out which is the sink?  But I'm very pleased to have the bathroom, and Deeds thankfully doesn't push the "open door" button to expose my shame. I was worried though. See the picture? He is pressing the CLOSE button over and over and the OPEN button is right above it!
After the bathroom fun I changed D's clothes and Jojo put on a clean shirt. I gave them some snacks from the stash.
We boarded the plane for our TWELVE HOUR FLIGHT from Tokyo to Atlanta. I was concerned because Jojo and I weren't seated together. Our tickets were for separate rows. I asked the flight attendant right away if she could help and she walked all around while Jojo and Deeds and I stood awkwardly in the back of the plane. Jojo was begging me to "hurry up" and sit down. Not like I could do anything.
Finally some man who was seated next to me said he would move to Jojo's seat. So that gave Jojo and I adjoining seats. Deeds was my lap baby.
I had an aisle seat and Jojo was between me and a lady. At first he refused to sit next to her but I made him do it because no way was I going to nurse Deeds with his legs hanging into some stranger lady's lap for 12 hours.
This flight we didn't have the personal video screen with movies on demand. Not only that, we were on the second to last row of the plane and I could barely see the movie screen at the front. Jojo couldn't see it at all. No real loss though because the movies seemed to be really old made-for-TV type movies from 20 years ago.
The boys went to sleep around the time the plane took off. It was really cold on the plane and we all three had on summer clothes. Jojo covered up his whole body  including the face with a blanket and Deeds nursed to sleep with his blankie. They both slept for about 2 or 3 hours. I had to hold Deeds the whole time but I managed to wrangle my book out of my bag and read while they were both asleep.
The meal came while the boys were asleep, just like on the Bangkok-Tokyo flight. Jojo's kids meal was a really cute bento-type meal in a container shaped like a cat's head. My vegetarian meal was rice and veggies and a roll.
Jojo woke up first this time and ate parts of his meal, like the custard type dessert, some jello, a little bit of some type of meat nugget, and some green peas. He also asked for milk which the stewardess poured into a tea cup and served with 2 coffee stirrers to use as straws. He thought that was awesome.
I gave him some more gifts of the markers and some plastic stencils and engaged him in using the stencils on his sketch pad. When he got tired of that we did an entire workbook of mazes. It was about 14 pages.
When Deeds woke up it was around 7:30 pm our time. We had been on the road for over 20 hours already. Jojo didn't want Deeds grabbing his markers and stuff so I gave Deedsy his compact mirror. He played with it for less than ten minutes and then I decided that it was time to debut the play dough.
The play dough worked great; by the time we put it away they had played quietly for over 30 minutes, which is really good for a 2 and 4 year old. The only down side was that some brown play dough dropped to the ground and Deeds stepped on it. So there was brown gushy stuff stuck in the bottom of his shoe. It looked like you-know-what.
I set Jojo up with the i-Pod and he watched two thirty minute TV shows that Nick loaded on there for us. He watched  one episode each of Backyardigans and Magic School Bus.
Deeds started getting a little squirrely so we tried to walk around a bit. I asked the flight attendant for some apple juice and it was quite a search to locate what was apparently the only can of apple juice in the galley. Deeds drank the approximately 2 ounces they gave him and then wanted more. They then gave him 4 ounces but he ended up not drinking it.
Some shrink wrapped slices of some kind of sweet bread (like banana bread, only not delicious) was served. The boys didn't like it and I didn't either but I ate it out of boredom.
This period in time was the most difficult because Deeds couldn't be contained. It was "lights out" time so it was dark in the cabin and many people were asleep. I was really up tight about the boys bothering anybody.
The tray table continued to be a source of tension as both boys wanted to open and close it a lot. This would jar the person sitting in the seat in front of us, and I scolded them often. Jojo is a little easier to reason with than Deeds.
The same apple juice stewardess gave us each a banana, which was much appreciated.
Finally I pretty much forced the boys to go to sleep again, I mean it was past 11 pm in our world. I nursed Deeds for the longest time ever until he went to sleep.
Jojo went to sleep too, but this time I had to be continually vigilant because every 2 minutes he would fully extend his legs to where they were either IN the stranger lady's lap or pressing into her thighs. That poor lady!
I felt sorry for Jojo and tried to pull his head up higher in my lap.
Deeds woke up briefly and decided he was going to sleep on the floor in front of the seat. I know it is against the rules to do that but I really wasn't going to argue with Deeds about where he wanted to sleep. At this point I was going on about 36 hours with no sleep, so I had really stopped caring.
While I was on vigil for Jojo's leg position, I read my book and also tried to hide Deeds with my feet so a stewardess wouldn't tell me that he wasn't allowed to sleep on the floor. I had a close call when a grandmotherly stewardess came up and admired Jojo sleeping in my lap. She said, "Oh, to be able to sleep like that!"
I was thinking, "Yeah, he is so peaceful, thrashing his legs all around on this poor stranger lady."
When the boys woke up again I started feeling sick. It was probably from lack of sleep.
I was feeling so so tired I felt a little nauseated and faint, and a headache too. Probably a lot of this is from the limited amount of liquid they allow you to drink in flight.
Breakfast was served and we had about an hour and a half to go before we landed. This is when things really it rock bottom for me. I wasn't sure I was going to physically make it, and the boys started being silly and a bit loud. They weren't bad they were just noisy and it was stressing me out, bouncing up and down in the seats, playing peek-a-boo with the people behind us, clicking the seat belt buckle open and shut, open and shut.
Deeds had a little bit of a poo diaper so we went to go clean it up. It was a bit runny but thank goodness it wasn't a trend.
I brought out some pipe cleaners and that really kept them interested for a good solid while as we were making our decent into the Atlanta airport. I showed them how to make a figure 8 out of it and then pretend it was eye glasses. They both thought it was hilarious and would put the "glasses" on over and over until they broke the figure 8 loop, then hand it back to me to recreate it.
When we landed in Atlanta, a flight attendant offered to take my wheeled suitcase off of the plane for me. That was a help because the aisles are so narrow I was already bumping into things with Deeds strapped to my back and a suitcase on my front.
When we pulled in to the airport we had to wait a REALLY long time to be let off the plane. Every one was standing up in the aisle all ready to go and we were all hot and tired.
In the Atlanta airport we went through customs, which was very efficient but there were lots of people so it still took some time. I was really worried I would faint by this point, I was totally staggering while I was waiting in the line. I started getting worried they would think I looked ill and then accuse me of having the swine flu.
The customs agent was really friendly and stamped our passports without making rude remarks (in LAX they always say something rude, it is a requirement I think).
Next we had to pick up our checked luggage, take it through a line to tell an agent that I didn't go on a farm or import any kinds of plants or that kind of thing, then and check the luggage back in for our last flight.
We went through the metal detector, this time we had to take off our shoes (in the other countries, shoe removal was not necessary).  A nice lady with a Russian accent working at the metal detector helped me get all of my stuff to an area where I could sit down and then strap Deeds back on my back and get all set up.
We walked and found the subway train to take us to Terminal D, which turned out was only one stop away. I told Jojo to run off really fast when the doors opened, so we got out quickly. Then I walked in the wrong direction for like 8 minutes trying to figure out where our gate was, but realized it before I was too far gone.
Finally we found our gate and the boys were both tired so they just sat with me waiting for boarding. Jojo said he had to go potty and I told him where the bathroom was and he went by himself (it was about 40 feet away, I told him the water fountain as a land mark and reminded him to come back to gate D-16). I know it isn't customary to send a 4 year old to the bathroom by himself but I was surrounded by carry on luggage and Deeds, I didn't really want to gather every thing up and drag it into a bathroom stall. He made it back just fine, and Deeds almost fell asleep again.
I  was really thirsty at this point and my lips were all cracked from lack of moisture (I really feel repressed with the restricted liquid). Our last  flight was only 27 minutes long and it left on time. Keeping the schedule was important for my morale as I was counting the minutes.
The down side was we weren't served any water or anything. The up side was both boys fell asleep because we had been traveling since 9pm on Sunday night and it was now 5 am on Tuesday morning. The downside was I had to wake them up when we landed.
I staggered off the plane and waited for my rolling suitcase, which had to be stowed somewhere since it was a small plane with teeny overhead bins.
Wearing Deeds in a front carrier, a backpack on my back, and pulling a rolling suitcase, I walked with Jojo out of the terminal and was SO relieved to be greeted by my parents and mother-in-law. The brought balloons and huge all day lollipops for the boys. Deeds wasn't really feeling the love at first but Jojo was excited to see them and wanted to go to my mom's house to play Lego.
My dad got our luggage off of the carousel for us, but one of our three bags didn't make it. I wasn't bothered very much by this, because I knew it was at least in Atlanta.
I slept that night from 9pm to 6:30 am and woke up feeling almost human. My lost bag was delivered to the house at 11pm, while I was asleep.
So that was my solo journey. I will have to compare to last year's, when I wasn't alone! Hopefully next time I can be even better prepared.