I am crazy for handmade toys; when I saw the adorable faces of the new line of Joobles friends from Fair Indigo, I was instantly smitten.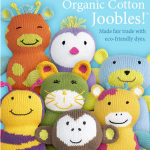 Responsible, Sustainable, Adorable™
I want to collect them all!

Joobles are handcrafted in Peru under fair trade conditions.
Joobles were first made by a Peruvian family of three, but the business has since expanded to provide jobs with living wages to hundreds of people in Peru.
Fair Indigo also contributes to the lives of these workers by donating free breakfasts and school supplies to their children.
Each incredibly soft animal is made with eco-friendly dyes and organic cotton grown in Peru. Calley the Cat stands 11" tall (as all the friends do) with adorable whiskers and a huggable green and yellow body. For parents hunting for eco-friendly toys, all of the Joobles are made with cotton grown without the use of pesticides, insecticides, herbicides, fertilizers, or other chemicals. Eliminating these chemicals is not only better for baby, but also for workers and for the environment.
Joobles are heirloom-quality toys made from 100% organic cotton, giving them comfortably soft, toxin-free bodies.
I can't resist Joobles' friendly, smiling faces and eco-friendly dyed colors, and I was even more thrilled to learn that they cost only $29.
I have seen knit dolls at online boutiques that retail for twice that amount!
Deeds is a stuffed toy fanatic, so I am so excited to have this well made, organic, fair trade Joobles doll for him to enjoy!
If your child loves to play with dolls and plush animals, you can feel confident in giving them a Joobles for Christmas!
As I mentioned in my previous post, I met someone two weeks ago who works in a sweat shop. She is a twenty-two-year-old girl who sews upholstery for 12 hours per day, earning $25 per month.
The factory is not air conditioned or heated, and is surrounded by high walls and barbed wire. Usually the workers are "given" a place to sleep within the compound walls. These are very simple, shared accommodations that are in worse shape than homeless shelters in the USA.
I don't know if she gets the weekends off. Probably not, because most blue collar workers in Laos have a 7 day work week. But even if she only works 5 days a week (60 hours), that is about ten cents an hour, right? I do not want to support the people who are making money off of her loss of human rights. If we purchase products made under these conditions, we share the blame that they continue.
I usually try to avoid tangents in my review posts but I think the term sweat shop is glossed over and joked about in the United States, but it is real.
Fair Indigo is giving one Mom Most Traveled reader the Joobles plush of their choice for Christmas!
To enter, visit www.fairindigo.com and click on the tab About Fair Trade to learn what this term really means and why you should care.
Also tell me the name of the Joobles character you would like to win!
Fair Indigo has informed me that because Joobles are hand made, certain styles might run out in the holiday shopping season. Please have a "back up" option in mind in case your first choice is not available.
One winner will be chosen at random.
*Congrats to Shari! (non blogger) Her extra entry for submitting this post to DIGG won it for her!*