I was killing time with my kids in a store, waiting for Nana to get a hair cut. We ended up in the "educational toys" aisle and my 6 year old begged for a Discover with Dr. Cool Shark Tooth Dig Science Kit
.
He said it would be the last thing he EVER ASKED FOR before his birthday in 18 days.
I told myself, "Self, this is educational and this will buy you time at home during summer vaycay, and also he won't be playing Minecraft. Lets do this!"
As soon as we got home, he was DYING to dig for shark teeth. So we hurried through the night time process and he was able to dedicate 30 minutes to generating an unholy amount of dust, scraping plaster-o-paris away in an attempt to expose one of three fossilized shark teeth.
The tools included in the kit are:
-a coffee stirrer
-a tiny paint brush
-a magnifying glass
As you might imagine, these tools are highly frustrating to use in a "digging for stuff" situation.
I have personally never used a coffee stirrer to dig, or even stir coffee. I use it as a tiny straw, which is the only approved and logical use for a coffee stirrer.
The next day, Deeds didn't want to eat Sunday lunch with the grandparents. Instead, he requested that I pick him up from church so that he could immediately go all Palentologist on that plaster-o-paris shark tooth.
I made him a sandwich and we got to it.
Unsurprisingly, after about 45 minutes of unrewarded chipping and digging, Deeds began to lose hope. I tried to lend a hand by breaking some of the larger pieces in half with my hands.
Jojo suggested that we go outside and throw the plaster wad against the retaining wall. For some reason this highly offended me and I chided him for not understanding the "Spirit of the Dig Kit".
30 minutes later: still no tooth. I contemplate various illegal means of dissolving the plaster of paris, such as submerging it in water or, hey, why don't we throw it at the retaining wall? I take a turn at chipping. We all decide we should definitely play iPad games for a while.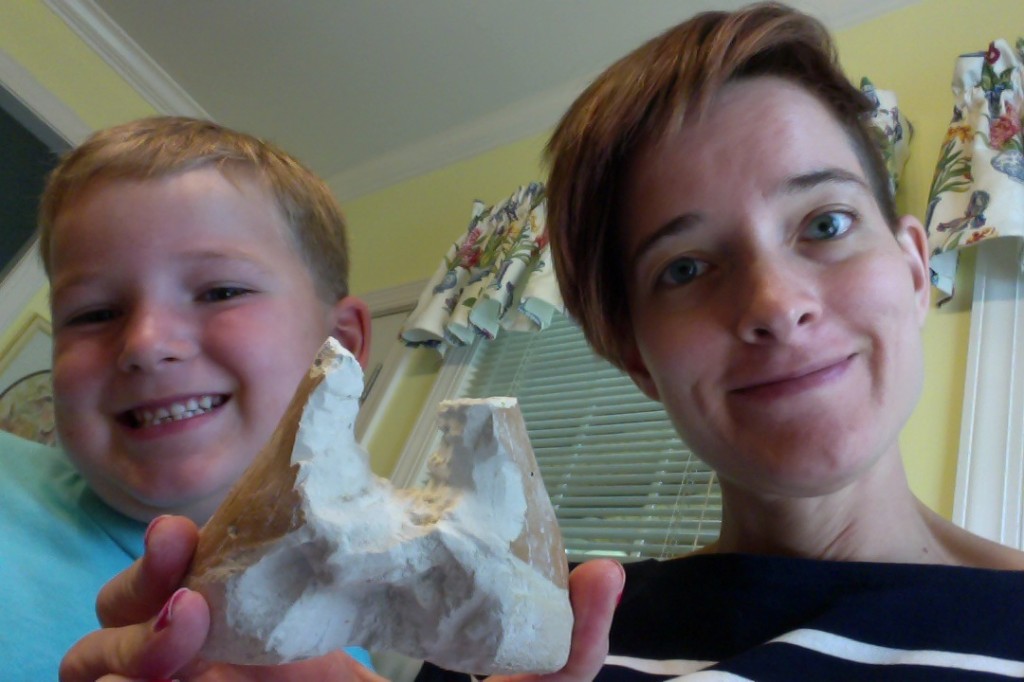 We abandon the project. 4 hours later my mom finds a shark tooth on the ground.
Oh.
I show Deeds the tooth and his digging fervor is renewed!
Jojo, Deeds and I begin scraping again in earnest. We find the Otodus Shark tooth, then Deeds breaks the Sand Tiger tooth in half.
This is saddening to all involved.
Lastly we find the Crow Shark tooth…and nobody knows where that shark tooth on the hard wood floor my mom found came from.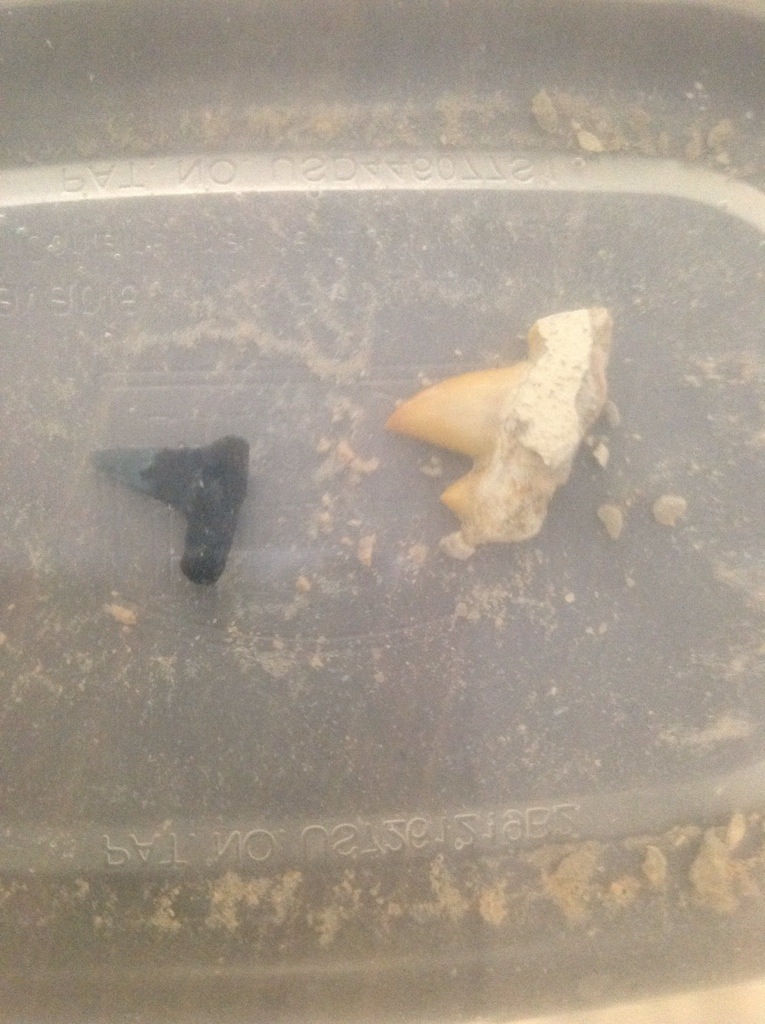 I don't like educational toys that cause tears and whining.
Next on the block: Jojo vs the Tin Can Robot Kit.