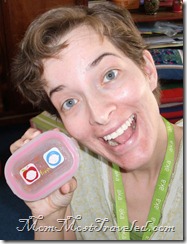 Innobaby has a great collection of ingenious, cute, quality, and eco-friendly products. I was sent samples of a few Innobaby products and I have been using them on a daily basis!
My most favorite Innobaby product are the Keepin' Fresh containers.
Not only are the Keepin' Fresh containers 100% airtight and 100% leak-proof, they are available in BPA-free plastic OR glass.
I am over the moon about the glass containers; I searched for them about a year ago to no avail; I'm so thrilled to find that they exist!
The tops on the Keepin' Fresh containers have flip down locks that my 2-year-old and 5-year-old children can easily maneuver. I have packed Keepin' Fresh containers in their lunches and my own lunch every day since we got them! That picture is me in my office with some home made salsa. Woohoo!
The Keepin' Fresh™ series is sized to allow you to prepare and store perfect portions for Stage 1 and Stage 2 solid feeding. You can make your own purees, or store cereals, breast milk, diced fruits, cheese cubes, snacks and more.
The glass containers allow you to bake, freeze, and microwave the contents.
Keepin' Fresh containers retail from $7.99-$12.99 for a 2 pack (www.innobaby.com).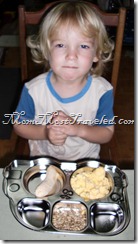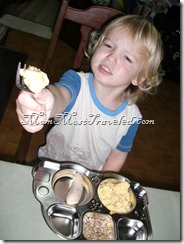 Deeds has a favorite Innobaby product as well: his cute DinDin Smart car-shaped stainless steel plate!
This is another treasure that we have used EVERY day. Deeds love cars and I love the perfectly divided toddler-portion compartments.
Deeds holds the family record for "most glasses broken at restaurants", so it is nice to have this adorable and indestructible platter.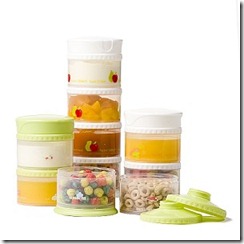 Last but not least, behold the Innobaby genius that is the Packin' Smart!
By making smart adaptations to the powdered formula dispenser, Innobaby has created a SMART solution with all sorts of travel applications.
The Packin' SMART comes with four containers that can be securely stacked and secured with its twist-to-seal interlocking design.
Every container comes with dispensing lid that can also be removed.
You can store both dry and liquid contents, so the possibilities are endless!
Each containers holds approximately 1/2 cup or up to 10 oz. of powdered formula.
Packin' SMART is Dishwasher-, Freezer-, and Microwave Safe. BPA-, Phthalates-, PVC-, Lead Free.
I'm looking forward to using Packin' SMART on our next trip to stash things like vitamins, snacks, small LEGO bits, or even my jewelry.
Innobaby has other great products too! Visit innobaby.com to see more Innovative Solutions for Smart Parenting!
Innobaby provided these product samples for my review. Yep. I like them.