I'm a realist; I say, only make New Year's Resolutions that you know for sure you can keep.
Personally, I pledge to eat lots of chocolate in 2010. You can hold me to that.
If you are uninitiated to the deliciousness that is Ritter Sport chocolate bars, I urge you to get on this tasty-train as soon as possible.
Ritter Sport is available in different compositions: the chocolate covered cornflakes is a surprise favorite of mine, and you know you can never go wrong with chocolate covered almonds.
These are THE good stuff, you know, the ones that I hide in the back of the pantry and ration to myself two squares at a time?
Ritter Sport bars are patterned into 16 small squares, making them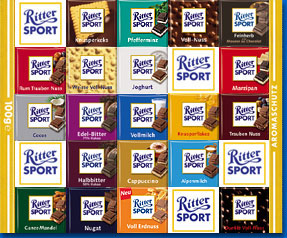 easy to break apart. The company website says, "for sharing", but, um, I don't really do much sharing with my Ritter Sports. The wrapper is resealable to an extent, and I usually put it the uneaten portion in a small ziplock bag which I hide on the top rack of the fridge near the little egg-shaped divots. Shhh! Don't tell!
The wrapper is also biodegradable, and the chocolate itself is gourmet quality. Have you ever known Germans to create confections that weren't delicious?
I would never turn down the chance to have some Ritter Sport chocolate; I have sampled several of the varieties and I want to try them all! (maybe another New Years Resolution for 2010, yeah?)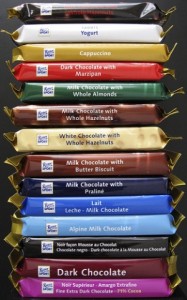 I have some VERY exciting news for you! (I'm talking to you! But I'm NOT talking to the handful of readers who unsubscribed after I posted that I was robbed. Minus five empathy points for those guys!)
Ritter Sport is giving away an entire CASE of minibars to FOUR Mom Most Traveled readers! Each winner will receive four boxes of minibars, and each box contains 84 minibars. I know! EACH WINNER GETS 336 minibars!
1.) To enter to win, visit http://www.rittersportfriends.com/varieties.php and leave me a comment with the variety you would love to try! Also, if you feel safe, tell me where you hide your chocolate stash, I could always use ideas!
Please don't just comment with "Enter me" or "Sounds great". That totally annoys me. Those entries are not eligible to win.
Four winners will be chosen by random number generator.
This giveaway is open to those with a US mailing address.
2.) Email subscribers get an extra entry for as long as their subscription is active.
Already a subscriber? Leave me a separate comment on this post to let me know you're interested in this giveaway.
Want to subscribe? Just click here:  Subscribe to Mom Most Traveled by Email (Only verified subscriptions are entered for all the giveaways.)
3.) Ritter Sport on Twitter and tweet about this giveaway (include a link to this page and @MomMostTraveled) and comment here with your Twitter name. You can do this once per day!
4.) Blog about this giveaway, including a link to this post. Leave me a comment with the link so I can check your post!
5.) Become a fan of RITTER SPORT CHOCOLATE ON FACEBOOK and let me know you did so.
This giveaway will close on January 14, 2010, 11:59 pm EST.
Also check out the Ritter Sport Happiness Squared contest; they are giving away one year's worth of chocolate!
I have been a Ritter Sport fan since before Jojo was born!
Thank you, Ritter Sport, for sending me some chocolate samples! You can send more any time!