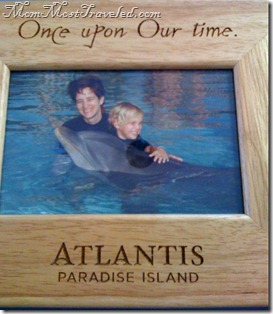 Jojo and I got to experience the Shallow Water Dolphin Encounter at Atlantis Resort, Paradise Island, Bahamas.
We got to pet the dolphin and even hug and kiss it. Truthfully I passed on the kisses, but Jojo had stars in his eyes.
We suited up in Atlantis Resort wet suits, and Jojo started being a dolphin himself, gliding by my legs and offering me to pet his back.
His favorite part was when the dolphin sang "Happy Birthday", which sounds something like "Ah ah ah ah ah ah," in high-pitched dolphin language.
We had so much fun, my only regret was that it wasn't possible for me to bring my camera along (in the water) so we had to settle for this souvenir photo.
It isn't the best picture of either one of us, but you can see Jojo's thrill at hugging the dolphin, whose name was Atlas.
When I took surfing lessons last year in Bali, someone took loads of pictures of me on the waves and then gave me the option of buying the CD of images. I would have loved to have something like that to remember our dolphin experience.
For now I just have pictures in my mind, and happy memories of Jojo the dolphin.
I paid my own airfare from Asia to LA, but JetBlue, Atlantis, and Lego invited me on this experience as their guest and covered my other expenses.
Our other Bahamian adventures:
JetBlue Flight from NYC JFK airport to the Bahamas!
Marine Life Exhibits at The Dig
Making and Doing at Atlantis Resort
….
Other Atlantis Adventurers:
Bump Alison (TheBump.com)
Mara Gorman (The Mother of All Trips)
MomCentral, The DeBroff Brief
Mommy Niri
MomTrends
Mom Most Traveled
NYCity Mama
Boston Mamas
Cool Mom Picks
The Daily Grind of a Work At Home Mom
Lil Sugar
CC Chapman
Mocha Manual
Parents Magazine Goody Blog
Yummy Mummy