If you are a mom, you have probably read your share of guilt-inducing blog posts about how to create an enticing diorama out of your child's food, so that he will be coerced into eating it during his school lunch break.
With just a few extra hours in your morning, and a few extra easy-to-use specialty tools like rice molds in the shape of cat heads, your child will be able to receive the nourishment his or her body needs each noontide. 
Ya'll. I'm serious. This isht is pandemic.
(image linked to source)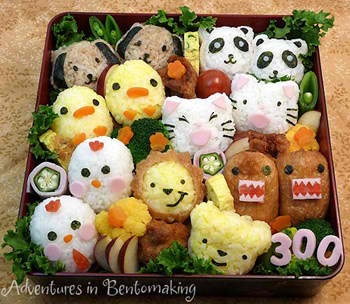 To all of the moms who feel pressure to create an anthropomorphic meal each day, I say, enough is too much.
There was a time when children ate food simply because they were hungry and didn't want to die.
A time when adults made the rules, and children who rolled their eyes or stamped their feet because they didn't get 8 more minutes on the iPad nary did see the outside of their bedroom walls for many a day.
We are making this too difficult. I blame the internet, pinterest, craft stores, hippies, gluten, red dye number 5, el Nino, and that one mom you can't stand from playgroup.
I'm a fun-lovin' mom, but I'm also a realist.
Here is the CanCan method of Packing a Lunch Your Kids Will Eat.
Step the first:
Pack a no-fuss lunch of things that do not trigger your child's gag reflex.
Include elements of each of the food groups, however many there are on that day. 
Remember that your child will likely have college classmates who grew up in a third world country, slept on the ground, ate rice and protein once a day, and will graduate at the top of their class, never having gotten "blackout drunk". Which is more than we can say for the entitled brat you may or may not be creating.
Step the second:
Put the food in a container.
You can even include a note that says something like "I believe in you! You only get to live Today once, so give it your best!"
We don't have to be drill sergeants here, we just don't want to pander. Pandering is the enemy. 
Step the third:
Send the lunch to school. 
At this point, one of three things will happen.
Possibility one: child eats the lunch. Woohoo, you just saved your self respect, and $7.95 on cathead rice molds! Your child LIVES!
Possiblity two: child eats some of the lunch. No biggie, maybe you packed too much.
Possibility three: child does not eat lunch. See Contingency A.
Contingency A:
Its time for real talk. If your child doesn't eat lunch for a couple days, the only person suffering is the hungry one.
However, if your child doesn't eat lunch for many days for some kind of extortion/non-violent protest leverage, its time to recognize.
We are talking about an elementary school student, a child at an age old enough to learn that most of the children in the world, heck, most of the ADULTS in the world at large, do not have a lot of choice about what fills their bellies each day. 
When I worked on a Mayan reservation in Belize, one day a villager asked me, "Do you eat lots of tortillas in Alabama (ed note: I am from Alabama)?"
"No," I said. "Not really."
"Oh," said the Mayan with a knowing smile, "only rice and beans, then?"
"Yes…" …I just said "yes".
That person wasn't even "poor" by local standards. Yet day after day, their diet hardly ever varied.
Corn. Rice. Beans.
I never saw a Mayan child whine, "My BEANS are touching my RICE!!!" and shove the plate away.
Never once.
Some children eat out of garbage cans. Some children eat sitting cross legged on the floor, in the same room where they sleep with the entire extended family. Some children eat twice a day, or maybe once. Some children don't get to eat as much or as often as they want.
Some children eat balls of rice with seaweed eyes. Some children eat whatever is in their lunchbox that day. And some children like it.