"Escape", "Getaway" – it seems that going on a vacation equates you to some kind of fugitive.
It IS sort of accurate; the idea is to leave your problems behind. In reality, how many family holidays turn into a "guilt trip" instead of a pleasure trip?
The entire vacation can be spent fretting over what you are missing back home, or feeling guilt for shirking your real "duties" in lieu of having fun, or maybe you just can't shake the dread that this carefree lifestyle will be over in 3…2…1…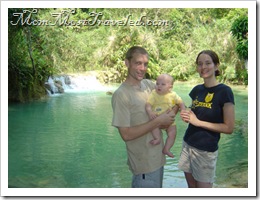 All of these things are the very reason we wanted to "escape" in the first place!
So what can you do to ensure your holiday really is a break from everyday stress?
Remember the sage advice of Dr. Leo Marvin in the movie What About Bob?
Take a vacation from your problems!
This is actually something you can do no matter where you are, and no matter if you have one hour or 10 days!
In advance:
Think ahead to the things that cause you to feel stress. Now think of some solutions about how these stressful situations can be avoided on vacation.
On the top of my "stressful vacation situations" list are
Being hungry with no food in sight.
Going out to eat with cranky children.
So, I'm always sure to have healthy snacks and some breakfast choices available. When we rented a condo for a beach trip, I brought along my slow cooker. Yep! I was "cooking" dinner in the slow cooker while having fun on the beach with my family. I got to relax AND come home to some tasty slow cooker lasagna.
Don't over schedule your off time!
Some vacations involve site seeing, but be realistic in your planning. Will your family be bushed after one art museum? Maybe that isn't the best night to schedule the dinner show.
Save yourself from cranky family members, and from the role of being Supreme Schedule Nag.
It's just more for you to worry about. Give your kids a small bag for toys. If it doesn't fit in the bag, don't bring it.
Cool it on the outfits. You know you end up wearing your favorite pair of trousers nearly every day anyway…
During your trip:
Don't let circumstances break you. Once on a trip to Singapore we spent considerable effort to get to an attraction called Volcano Land, which turned out to be defunct. We didn't let it ruin our outing, although it could have easily turned to blame casting (Why didn't YOU call ahead and make sure!) or despair.
I don't mean "let's see where this backroad leads!" kind of shortcut. I'm talking about looking for things to make your life on the road easier.
Is there a place near to your hotel that does laundry inexpensively? Get all of your clothes washed so you don't have to deal with the mountain of stink when you get home!
Can you pay a little extra at the theme park to ride a trolley instead of walking 7 miles to the next ride? Go for it!
Back Home Again:
Ease back into your "normal" life. Have a frozen pizza or some take-out food your first night back. Do something together like watching a rented movie together, or playing some games. Don't dive right into cleaning the house.
Discuss what needs to be done and delegate tasks. Who will empty the suitcases? Put the luggage back in storage? Delegate. Don't be a Holiday Martyr.
CanCan is a world traveling Mama of two who recently partied with elephants in Chiang Mai, Thailand.
She shares her family travel tips, enlightening webisodes, and amazing product reviews and giveaways at www.MomMostTraveled.com.