What is an unexpected yet awesome way you have used Skype?
Before Skype, when I lived overseas, I only spoke to friends and family on the phone less than once a month. And, since the call cost about 33 cents a minute, I was far to stressed to actually have a conversation.
Skype makes my world go round!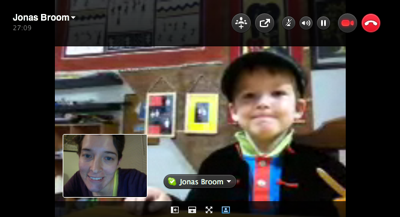 You might know that Skype allows you to do video calls over the internet, but did you know that for $60 a year, you can get your very own PHONE NUMBER on Skype?
Why would you want a phone number? Well, for example, when I was working in Asia, I bought a phone number on Skype with an Alabama area code. This allowed my parents to be able to call me with a normal telephone at no cost to them, before they ever were able to figure out how to use the internet.
I also was able to do conference calls from Asia to the US without racking up an astronomical phone bill. In fact, many people I worked with didn't even know that I was living in Asia.
How's that for sneaky? Another cool thing about Skype is that you can download the Skype app on to your smartphone, and then just use it like a regular phone. Its kind of awesome.
In the old days when I first started using Skype, I had to stay in front of the computer with my little microphone headset on. Not anymore!
I have video Skyped on my smartphone whilst driving in the US, or whilst working late in my office back in Laos a few years ago.
And I would Skype you in a boat!
And I would Skype you with a goat…
And I will Skype you in the rain.
And in the dark.
And on a train.
And in a car.
And in a tree.
Skype is so good so good you see!
Check out the Skype Facebook Page!
"I participated in a campaign on behalf of Mom Central Consulting for Skype. I received Skype credits to facilitate my review and a promotional item to thank me for participating."