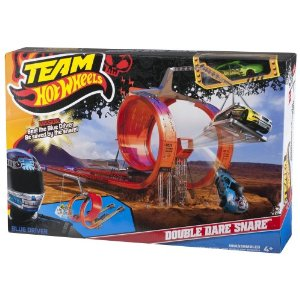 My kids are super lucky because they got to have a Double Dare Snare play date!
Double Dare Snare allows boys to race 1:64 scale Hot Wheels® side by side, down a twisty track, through a hair-raising loop and over a jump at the edge of a steep canyon. Inspired by the real life crew of Team Hot Wheels™ drivers!
Since TWO cars race at once, the Double Dare Snare play set is great for cooperative play.
Of course my two kids attempted to argue about something while Double Dare Snare-ing. But it didn't last long.
My 4-year-old loves any and every vehicle, so he was the most jazzed about this set.
The Double Dare Snare comes with one vehicle in the box, and we got 3 additional Hot Wheels vehicles for racing fun.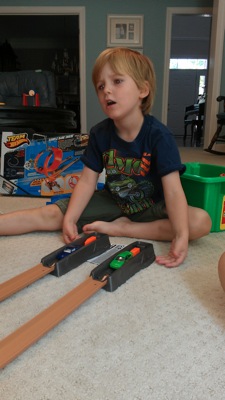 If you purchase Hot Wheels products in the Mattel Shop between June 25 through July 1, you will receive a special free gift!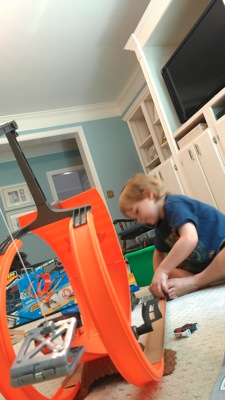 I like that the "race" starts at a certain non-disputable time. You click a lever, and when it raises to the top, the tracks are cleared and the race can begin. 
Then, press the button and launch your vehicle! If it is the fastest and the first to finish, you make it into the snare!
The winning vehicle in the Double Dare Snare™ is carefully scooped to safety by a quick snapping snare and saved from a perilous fall. Meanwhile, the slower car must attempt the harrowing jump or plummet to the ground trying.
Protip: I feel that the cars launch better if the launcher is on a hard surface. I put some cardboard under our launcher buttons since we were Double Dare Snare-ing on carpeted floors.
Hot Wheels is bringing the Double Dare Snare™ track set to life at this year's X Games Los Angeles on June 30th. The anticipated Double Loop Dare is a six-story tall, dual vertical loop that will pair two Team Hot Wheels drivers together, placing them into a never-before-seen upside down challenge. The stunt is set to be the biggest thrill of the summer! Watch it live on ABC beginning at 11:20 PDT on Saturday, June 30th!
"This is a sponsored post.  Hot Wheels product and additional incentives were provided to me.  All opinions stated are my own."