Don't leave behind your wife with a broken heart and all the bills. That's what one Long Island, N.Y., man discovered after he faked drowning to collect insurance money. "While I was crying and thinking he had drowned, he was vacationing in a resort and having a drink in the pool," said Evana Roth, wife of the alleged deceased. Her husband, Raymond Roth, faked his death and enlisted a relative to help him keep the money from her. When she discovered the truth, she quickly turned him in.
Life insurance can be an awkward topic to bring up in the context of a marriage. For one thing, you always hear about crazy cases of people trying to get life insurance payouts in fraudulent ways, such as knocking off their own spouse.
Hmm.
But, lets be real, the odds are very slim that your spouse will kill you. On the other hand, the odds that you will one day die are 100%. In humans, there is a 100% death rate.
Seriously. It happens to everyone.
So, what happens to your family when you die? Will they be provided for and be able to "live the good life"? Or will there be no financial provision, and life will get progressively crappier?
These are the questions you have to deal with WHEN YOU ARE STILL ALIVE.
If you don't know where to start, take it to the interwebs.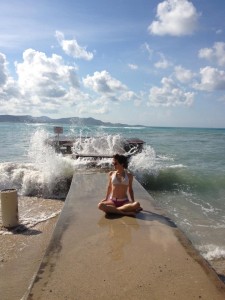 Look for articles on topics like How to Have the Life Insurance Conversation With Your Partner
Genworth Insurance has free resources online to help guide your talks and decision making about choosing life insurance.
This post was inspired by Genworth and Brandfluential.