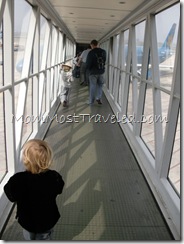 Hue, Vietnam, is well known for it's fabulous old historical structures. We departed Hanoi at noon on Christmas Eve, bound for Hue!
We got our plane tickets through LastMinuteTravel.com. Some people try to go the economic route and ride a bus to tour Vietnam, but a 12 hour bus ride is a 1 hour flight. I know how I would rather spend my time!
The flight was short and sweet and soon we were collecting our bags in Hue (pronounced "Hway").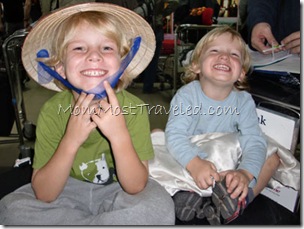 In Hue we settled into our hotel, and though it was only 3pm, we headed out for dinner. We had missed lunch.
We found a vegetarian restaurant (as we were trying to out run a very persistent cyclo driver who was tailing us for a couple of blocks, totally convinced that we would eventually give in and hire him), Tinh Tam.
We had some good mock chicken with lemon grass, some not good "sweet and sound" chicken, and some yummy "hamburger" which looked nothing like hamburger but tasted good on steamed rice.
I also ordered an appetizer of dried rice cakes with dates, which turned out to be fried rice cakes with a crazy-funky salad of cello noodles and leaves. It was actually delicious.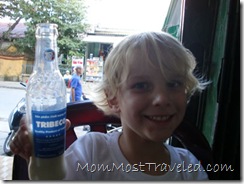 After dinner we went to a grocery store, Big C.
We were trailed and harassed around the store by people wanting to touch and poke and take photos of the boys. It was very tiresome, especially because Jojo HATED it.
Deeds kind of held his own and would give people a furrowed eyebrow, but Jojo just burst into tears several times.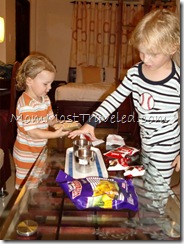 When we got back to the hotel, it seems that Santa Claus came during bath time!
He brought a glass of strawberry milk for each of the boys, some Orion Pies (an Asian brand of Moon Pies. Creative name, don't you think?), some sesame candy, and a carved wooden stamp for each of the boys.
Each stamp has the owner's name on it. Deeds has a picture of a taxi on his, and Jojo has a picture of TinTin and his dog Snowy.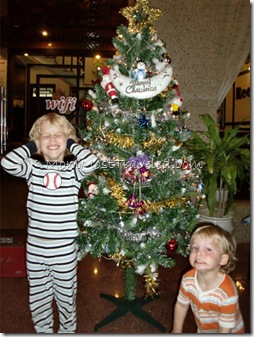 Our hotel invited us for "Christmas Cocktails" at 7pm. When we went downstairs, they had fixed a nice little party for all of the guests.
There was loud music (hence Jojo's pose in the Christmas Tree photo), wine, beer, Coca-cola, and foods like ham, Vietnamese salad, and fruit.
All of the guests sat around awkwardly, not knowing what to do. We don't know each other at all and we are all from different countries.
I sat next to a guy who looked like the Japanese version of Michael Jackson.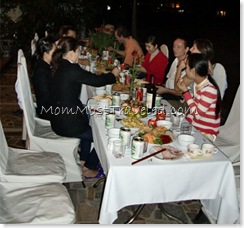 My favorite conversation of the night was with a worldly Vietnamese man sporting a ponytail.
He asked me which state I was from, and then complimented my clarity of speech, adding that black people from New York are really hard to understand.
I felt confused but didn't have anyone to share an awkward sidelong glance with. 
…
Don't forget to RSVP for the twitter party on November 5, 2012, and get your chance at winning some goodies!