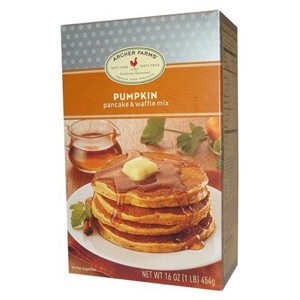 I've been in the mood for holiday food.
Target has holiday flavors in their Archer Farms brand of goodies, and many of them deliver the good holiday feeling without the "forever on the hips" or "I spent too much" guilt.
There is Archer Farms Pumpkin Spice Coffee ($6.99), Pumpkin Spice Oatmeal ($3.49), and Archer Farms Red Velvet Pancake Mix, or Pumpkin Pancake and Waffle Mix ($2.99).
Do some savory noshing on Archer Farms Roasted Deluxe Mixed Nuts ($11.99), and satisfy the sweet tooth with some Market Pantry Gingerbread Cheesecake Cookies ($1.99).
To locate a SuperTarget store, visit Target.com.
…
Want to share a tasty holiday snack at the office, but can't work up the energy to bake?
First of all, you aren't alone. Second of all, Nonni's Gingerbread Almond Biscotti is awesome, and all you have to do is open the box!
Each gingerbread biscotti is filled with almonds and dipped in gourmet white icing, making it a delicious treat for anytime you need a biscotti break.