Holiday baking is the bomb. Don't be scared,  you can make every dessert more nutritious, more delicious, and healthier than ever before by incorporating high-quality Hodgson Mill Whole Wheat Flours in your holiday spread!
Hodgson Mill Whole Wheat Flour is 100% natural. Hodgson Mill products are straight from nature, with nothing added and nothing taken away!
We made these experimental CHOCOLATE SPICE COOKIES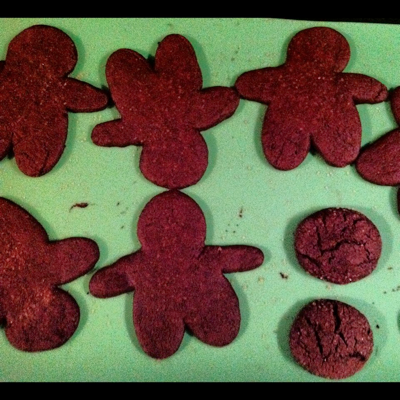 Ingredients:
1 1/2 cups Hodgson Mills Whole Wheat Pastry flour 
1 1/4 tsp ground ginger
1 tsp cinnamon
1/4 tsp ground cloves
1/4 tsp nutmeg
1 tbsp cocoa powder
1/2 cup butter
1/2 cup brown sugar
1/4 cup molasses
1 tsp baking soda dissolved in 1 1/2 tsp boiling water
1/4 cup sugar
Preparation:
Whisk together the flour, ginger, cinnamon, cloves, nutmeg and cocoa in a small bowl and set aside.
Beat together the margarine and brown sugar. Add the molasses and mix well. Add half of the flour mixture and the baking soda mixture and combine well. Add the rest of the flour mixture.
Chill, covered for at least one hour. Pre-heat the oven to 325 degrees.
I made small balls of dough and rolled them in sugar before placing on the baking sheet. That turned out well, then I left the rest of the dough in the fridge for like a week, and thought "hey, why don't I make gingerbread-esque people out of this?"
And I did. And it worked. Same dough.
Kids love it!