I wanted to do something fun with the kids in Ho Chi Minh City, so I thought we would check out the zoo and botanical gardens.
The morning started with a nice breakfast on the 5th floor terrace of our hotel, the Saigon Mini Hotel.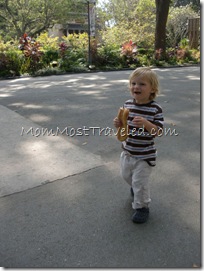 Even so, when we arrived at the zoo and gardens there was a baguette sandwich seller by the gate, and Deeds wanted a sandwich. He and Jojo each got one filled with shredded pork that is so fine it resembles hair. I think officially it is called "pork floss".
I'm serious. It is very hip in Southeast Asia; all kids love it, and I have no idea how it is made. I think it probably involves turning the pork into jerky first. Deeds at that entire sandwich, and some of Jojo's.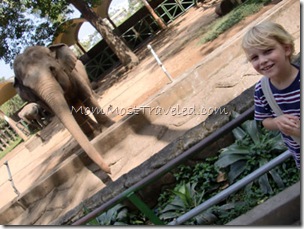 I thought the botanical gardens surrounding the zoo were beautiful and we had a great time walking leisurely around.
When we got to some cat cages (some kind of mountain lion-type animals) they smelled VERY strongly of cat pee. But that was kind of understandable.
Then we came upon some primates. Some random ladies were there selling carrots to feed to the monkeys through the bars. Nick asked about buying some but I reminded him it is totally not safe to feed animals like that even through the cage! Plus those ladies didn't actually work for the zoo! They were like squatters!
Jojo was excited about these desert plants because of his love for Indiana Jones. Indiana Jones is often in the desert, you see.
Next to the desert plants were the flamingoes. This is where the magic broke down for me.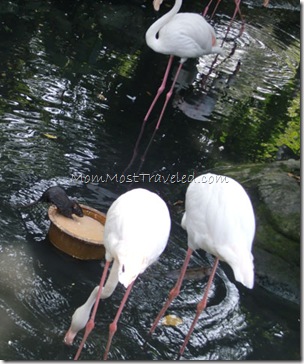 There were three large rats in the flamingo food bowl! Eating! The flamingos were pecking them angrily! Look between the legs of the bird in the bottom right and you can see a rat swimming away. And of course the obvious one in the food bowl.
That totally grossed me out, they were so at home! They later walked over to the bushes, close to the fence where I was standing.
I can report that there weren't any rats in the alligator exhibit or the tiger cages, but there was some extreme rat action in the cage of several chickens near the bird area. I couldn't get a photo because it was through Plexiglas, but still: ew.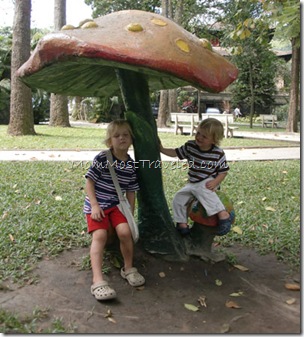 Overall the zoo and botanical gardens are a great place to spend time with kids. Throughout the park are lots and lots of kiddy sized rides that you can pay for the kids to enjoy. Somehow we luckily got out without being sucked in to a bounce castle or merry-go-round!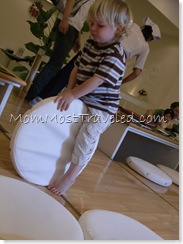 The animal conditions are a little bit somber but not as bad as I imagined. Although I didn't imagine rats.
After our fun we took a taxi back toward the hotel and had lunch at Tokyo Deli, where Deeds enjoyed the floor cushions and I had some yummy hot udon and fresh iced green tea.