I have long been a fan of Hexbugs, and now they are new and improved… the rough and tough HEXBUG® Warriors Battling Robots have really cool armor and  weapons!
Have you ever watched that science show where nerds build robots that "fight" until one of them breaks? Well Hexbug Warriors are that level of awesome.
This summer I was given enough Hexbug Warriors to host a party for my kids friends!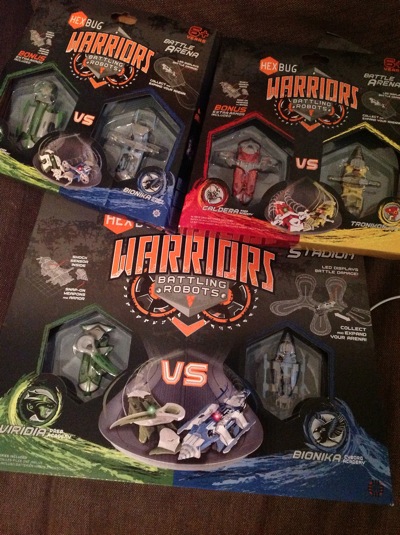 What I love about Hexbugs is they are kind of a fun and rowdy toy yet they won't result in something getting broken in the house.
My kids dad is a physics teacher, and he uses Hexbugs in his classroom to explain concepts.
Ideal for ages 6 and up, the newest line (Hexbug Warriors) are tiny, collectible, micro robots that use the physics of vibration, to propel forward and battle with competitors.
They come in four colors, representing four dueling science academies from the year 2087 (I can't name them…)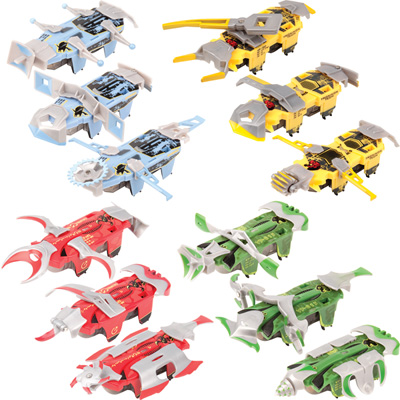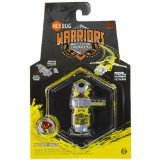 The Hexbug Warriors can be strategically equipped with different configurations of mechanical weapons and armor to outmaneuver their opponents in Battle Arena and Stadium competitions.
The HEXBUG Warriors Battling Robots have different modes in which they can opperate:
Training Mode means unlimited health, for scrimmages and testing purposes.
Match Mode is for competition, where they crash, jab and jostle with their opponents until they win or lose by running out of health at which point they deactivate.
There are 12 assorted HEXBUG Warrior Battling Robots Single packs available for fans to collect.
Each Single pack includes 1 fully-armored Warrior. MSRP is $7.99
The HEXBUG Warriors Battle Arena comes with two HEXBUG Warriors with weapons and armor, two expandable battle arena pieces (compatible with Battle Stadium), three standoffs and extra bonus armor.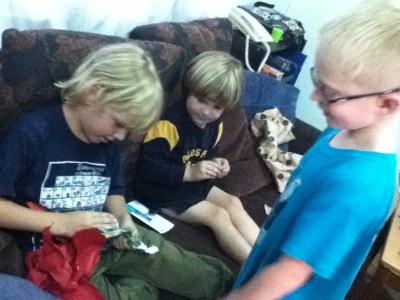 Of course,  the ultimate battleground is the HEXBUG Warriors Battle Stadium, which comes with two fully-armored collectible HEXBUG Warriors, eight Battle Stadium Pieces (compatible with Battle Arena) and 12 standoffs. 
My kids and their friends love Hexbugs…I can trust them to play together safely and fairly…these toys are sciencey and lend themselves to cooperative play! Win, win, win!