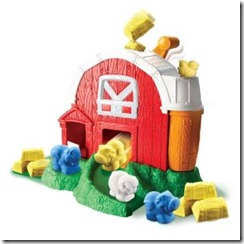 New from Spin Master Toys, (the company that brought us Aquadoodle and Moon Sand, among other things) is a gluten-free molding compound called MOON DOUGH *no moons were harmed in the making of this dough.
Moon Dough is about the weight of smooshed-up cotton candy, and the texture of a marshmallow.
It is not sticky, but can sometimes be a bit crumbly, and is supposed to "never dry out."
The texture and un-tackiness make Moon Dough a good option for tactilely defensive children (those with sensory issues who don't like to touch certain textures).
The Moon Dough Magic Barnyard is a play set that comes with 3 bags of Moon Dough and molds to create 4 different barnyard animals; a chicken, pig, sheep and a cow. You can also mold fences and hay bales to keep those animals in line.
You also get a playmat to help contain the crumbly bits. Overall, Moon Dough is way less messy than Moon Sand.
The "Molding Barn" is loaded from the top, then you have to turn the crank twice to create a 3D Moon Dough farm animal.
This toy is recommended for ages 2 to 4. The crank is easy to turn but I wonder if a two year old could load the mold properly without help.
The mold has to be well packed in order not to malfunction inside of the magical barn.
The Moon Dough is purported to never dry out, but it would have been nice for the play set to include storage containers. I guess the family Gladware can do the job.
Moon Dough-Crazy? Check out the Moon Dough website, fan Moon Dough on Facebook, or follow @MoonDoughToy on twitter. 
This Moon Dough was sent to me on behalf of the Team Mom review program.
More Team Mom Moon Dough Reviews: