Have you heard of fulvic acid? You need it. In your body.
I learned that it is a magical blend of minerals from the earth, and I should drink it because:
These natural compounds operate at the cellular level and have the unique ability to stimulate the natural regenerative biochemical and electrochemical functions that help the body to resist infection and disease. They have been shown to correct cell electron imbalances and thus scavenge free radicals. They improve nutrient absorption, detoxify pollutants and improve the digestive process. Medical science is now discovering that mineral deficiency is the leading culprit behind many degenerative diseases viral and bacterial illnesses and the general erosion of our health.
BLK. is a proprietary fulvic and humic acid electrolyte drink made from a natural organic complex blend of over 77 macro and micro trace minerals and  electrolytes.
Clearly, I need these minerals in order to be more amazing. I went to a special demo at Duane Reade in Herald Square in which Albie Manzo, Caroline Manzo, and Jaqueline Manzo  were there to answer questions about BLK.
Albie Manzo and Jaqueline's husband Chris are partners in bringing BLK. to market, after they discovered it at a food product expo.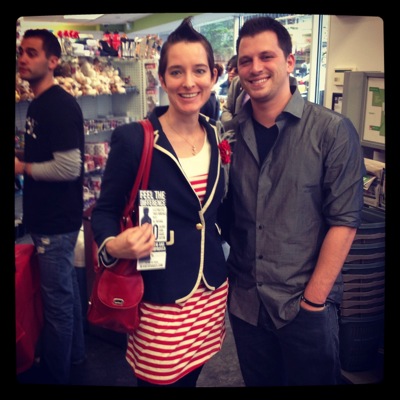 I got to meet Albie!
And Real Housewives of New Jersey fans got to meet and greet with Caroline and Jacqueline. Some people got their bottles of BLK. autographed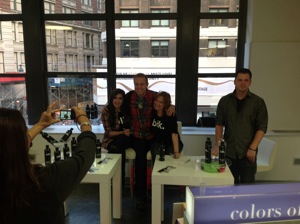 I made a Google + Story of my experience! Go check out all of the happenin' photos!
In the end I got my own bottle of BLK.!
I drank it at home after chilling it. I was told it tastes best chilled. It tasted like earthy, mineral-rich water.
Would do business again.
You can get BLK. at Duane Reade! Follow @DuaneReade on twitter, Duane Reade on facebook, and Duane Reade's youtube channel to stay in the know about all things Duane Reade!
I am a member of the Collective Bias™ Social Fabric® Community. This shop has been compensated as part of a social shopper insights study for Collective Bias™, and I had a lot of fun! #CBias #SocialFabric