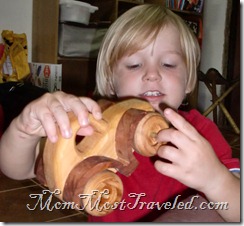 I have a thing for wooden toys, and Deeds has a thing for vroom vrooms.
Taraluna.com has added handcrafted wooden toy vehicles to their assortment of safe, natural toys.
These beautiful wooden cars and trucks are handmade in the USA by a retiree!
The wood is from Humboldt, Trinity and Mendocino Counties in California and include pine, cedar, redwood, walnut, oak, pepperwood and some fir.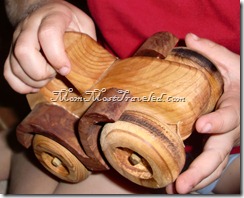 Deeds has a cute Handcrafted Wooden Beach Buggy that is sturdy and chunky; fun to hold and "drive".
The Beach Buggy is 6" long, 4" high, 3" wide and is only $16.00 at Taraluna.com.
Use coupon code "CANCAN" for 20% off store wide! Shop it up, and take advantage of Black Friday deals!
You know what I would stock up on? Delicious organic, fair trade, and (vegan if necessary), CHOCOLATE!
Yums.
Technorati Tags:
Taraluna
,
coupon code
,
discount code
,
fair trade toys
,
hand made toys
,
wooden car
,
reviews
,
organic
,
chocolate
,
fair trade
,
vegan