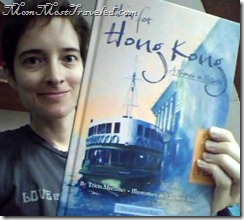 A few months ago I was in Bangkok and had the opportunity to hang out with travel artist Elizabeth Briel.
Not only did she enlighten me about @BKKFatty (we ate a lot together), Barcamp Bangkok, and her interesting experiences as a traveler, she gifted me a children's book that she illustrated with her cyanotype prints.
 H Is for Hong Kong: A Primer in Pictures is a gorgeous bilingual (Mandarin/English) book explaining typical Hong Kong sights in simple but poetic language.
The words on each page are in English, Mandarin characters, and pinyin. I really wish I had something like this when I was a struggling Mandarin student in Beijing.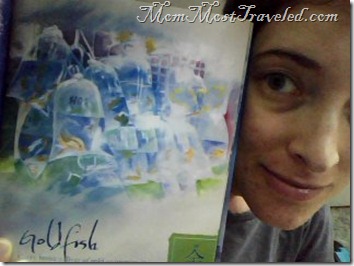 Regardless of your interest in Mandarin,  H Is for Hong Kong: A Primer in Pictures is a pleasant kind of way to introduce a child to a new place in the world.
I think we need to collaborate on a "V is for Vientiane" volume.
Look for H is for Hong Kong from ThingsAsianPress.com, or Amazon.com.
Check out Elizabeth Briel at http://elizabethbriel.com, @EBriel on twitter, and on Facebook. I hope we meet again!