It is almost flip-flop season again! I can't wait!
I frequently have "I wish I was wearing flip-flops right now" moments.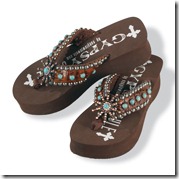 Gypsy Soule has some distinctive flip-flops great for showing off your inner rock star (or cowgirl, whichever the case may be)!
Creators Lorinda Van Newkirk and Amy Moorhouse use genuine cow hide and add bling with 100% Swarovski crystal conchos.
It's like a huge rockin' belt buckle…for your feet!
Crosses on the straps, sides, and heels add to the Gypsy Soule flavor.
Those Swarovski crystals really sparkle in the sun…how fun would these be at the beach?
The soles are high quality EVA, making each pair springy and comfortable.
Every set of Gypsy Soule bling flip-flops is hand made in Texas.
Props to Gypsy Soule for their flip-flops that feel good and look good!
Thank you to Gypsy Soule for providing me with a pair of sweet, sparkly flip-flops for review.
Other Gypsy Soule Reviews:
Laughing Lindsay checks out a Hammered Cross Necklace
PB and Pickles and her Gypsy Soule Boots
Connected2Christ has a multi-drop necklace
Mama in FlipFlops2 has…some flip flops!
Type A Mom has a detailed review of some Gypsy Soule Boots