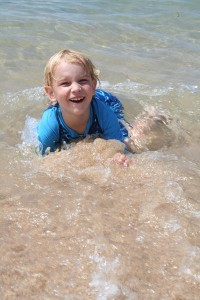 Are you going to the beach this summer?
There are people in the world that criticize the very act of traveling because of the "carbon footprint" produced by getting to a faraway destination.
I'm not ready to give up travel, but I starting thinking about what changes we could make in order to be more eco-friendly on vacation.
Here are a few strategies from our last beach trip:
we will bring our cloth diapers
we will bring our own cloth napkins. This will cut down on paper waste during meals.
we are bringing 2 slow cookers so that we can make meals but no one has to slave in the kitchen while everyone else is frolicking on the beach. This will save natural gas by not using the stove, and save gasoline by not driving to restaurants. It also saves time and stress!
we are NOT using "travel sized" toiletries. These result in more throw away containers.
The slow cookers were so great to have. My favorite day was when I made slow cooker lasagna! We had lots of leftovers so maybe we should have bought less sandwich fixins and just had leftovers at lunch time. There always seems to be the pressure to eat all of the left over food when we pack the car to leave at the end of the week.
I prefer to "pack light" and do laundry once or twice while on vacation. It just helps me not to stress out about running out of clothes, since I can't predict how many outfits the boys will each go through in a given day. Especially Deeds. He is a messy eater and a fearless explorer.
This is easy to do if you are vacationing in a condo, but even when we are in exotic places there has always been SOMEWHERE to either have laundry done or do it ourselves. We did laundry three times in Bali!
If you are planning a beach trip, please view the Cosmetic Safety Database to check the 2009 Sunscreen Guide to make sure yours is free from hazardous chemicals. I think that is a good thing to know!