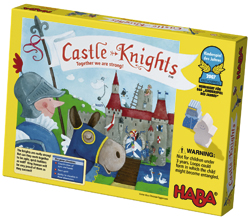 I am a fan of Haba, a Germany-based toy company with a high standard of quality and an understanding of good fun!
Jojo loves knights, so we were grateful to receive Castle Knights, a cooperative game from Haba for ages 5 and older.
The premise of the game is that the castle must be completed before the king returns.
Players actually work together to complete construction before the king arrives, so it is more a "race against time" than direct competition with other players.
Castle Knights comes with a Castle Bottom (Bottom of Game Box/Packaging), a Game Board Constructing Tool, a Wooden Princess Figure, a Wooden Prince Figure, a Wooden Ghost Figure, 6 Wooden
Building Blocks, 24 Cards, 1 Plastic Hour Glass, and 1 Set of Multi-Language Game Instructions (English Included).
Players draw a card, then use a stretchy band to lift the castle pieces and place them in the same configurations shown on the picture cards.
Race against the timer, and don't use your hands!
Castle Knights is on sale for $24.99 at Maukilo.com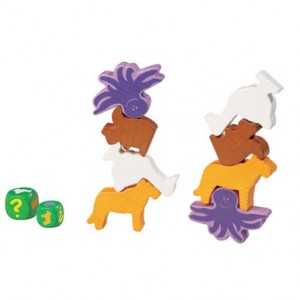 Maukilo.com has many fabulous Haba games! I haven't tried them all, but Animal Upon Animal is a cute stacking game for ages 5 and older. You can get that one for $12.49.
Wiggling Cow is another fabulous find from Haba that has won accolades from The Toy Man!
Pile up the hay/flower cards and carefully pull on the cow's tail and balance him on top of the cards.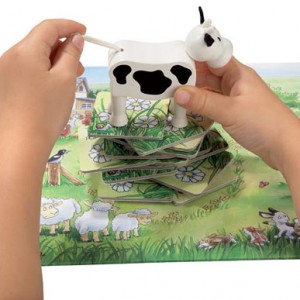 Use the hayfork to harvest a card while trying not to tip over the cow. Whoever collects the most cards wins! The rules permit the cow to tip up to 3 times during a round.
Wiggling Cow is for 1 to 4 players, ages 4+.
1.) To enter to win your choice of one of these three games, leave me a comment with A.) your choice and B.) another HABA game that interests you.
Please don't just comment with "Enter me" or "Sounds great". That totally annoys me. Those entries are not eligible to win.
One winner will be chosen by random number generator.
This giveaway is open to those with a US mailing address.
2.) Email subscribers get an extra entry for as long as their subscription is active.
Already a subscriber? Leave me a separate comment on this post to let me know you're interested in this giveaway.
Want to subscribe? Just click here:  Subscribe to Mom Most Traveled by Email (Only verified subscriptions are entered for all the giveaways.)
3.) Twitter about this giveaway (include a link to this page and @MomMostTraveled ) and comment here with your Twitter name.
4.) Blog about this giveaway, including a link to this post. Leave me a comment with the link so I can check your post!
This giveaway will close on December 4, 2009, 11:59 pm EST.
Thank you to HABA for sending our family the Castle Knights game, and for donating the prize for this giveaway. We are grateful.