Our last night in Hoi An was New Year's Day. There were several performances all around the city that night. They called them Vaudeville something or other.
We watched the end of one that seemed like a fashion show, narrated in French. At one point the girls went in the audience and gave random people glasses of wine. My husband got one.
Then we walked on to the next stage and it looked like a bunch of people in Polynesian costumes. We waited around an nothing happened, except members of the cast started crowding around Jojo and Deeds for a photo op with the white kids.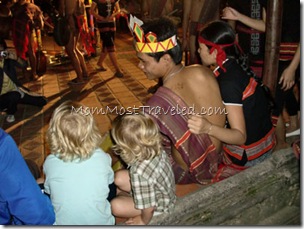 That started to get weird so we just went back to the hotel.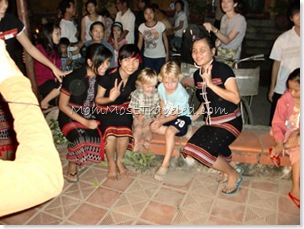 The next morning I went to the spa to get a pedicure (she made my toe bleed, a lot) and a bikini wax (also traumatic).
Then Deeds and I set out for some brunch. We ended up at a place called "Good Morning, Vietnam!" which I wrongly assumed meant that it served breakfast.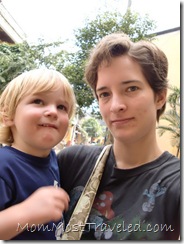 Actually it was fabulous made-from scratch Italian food by a real Italian chef! *swoon*
I had home made linguine with Mediterranea sauce. And I tried to get a cappuccino but sadly the machine was broken. I had Vietnamese "white" coffee (with milk).
Deeds was his mischievous self and dumped his orange juice everywhere. While we were waiting for the food we walked around outside. We enjoyed interacting with this pet bird. That is what he is looking up at in the picture of us!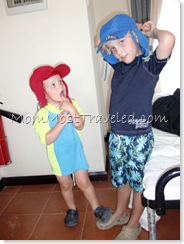 When we were finished with our meal, we returned to check out of our hotel. We took a taxi to Danang, less than 30 minutes away from Hoi An.
Danang is also known as China Beach, and we went right out to the beach!
Deeds and I didn't spend much time because it was his nap time.
Our new hotel, Sandy Beach, was a great place for us. It wasn't crowded and the beach was lovely.
They had these rustic water jars with coconut dippers for rinsing the sand off once you left the beach.
Deeds removed his clothes at some point, but the sun was almost down by then.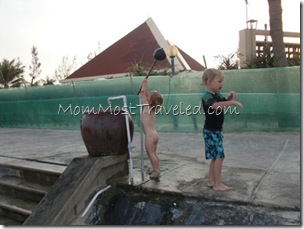 This day on the beach was relatively short. One nice surprise about Sandy Beach was that they had a playroom for kids. We couldn't leave them unattended, but it was really nice to have something for them to do besides fight in the hotel room.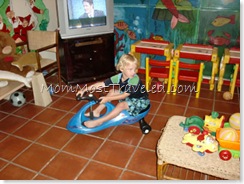 More fun beach pictures tomorrow!