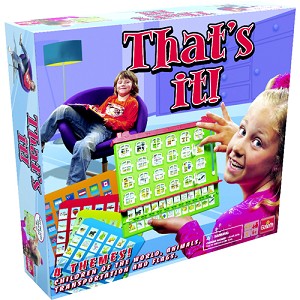 When I was a kid, I loved the game Guess Who?, but as I got older it was a little too simple.
Goliath Games have improved this guessing game concept with That's It!.
In That's It!, you try to figure out which image your opponent secretly chose, asking only yes or no questions.
That's It! has four different sets of images so you can play with a different focus.
Asking questions to figure out which animals, vehicle, child of the world, or flag is on your opponent's board is great for language and critical thinking skills.
That's It! is designed for two to six players ages 6 and older!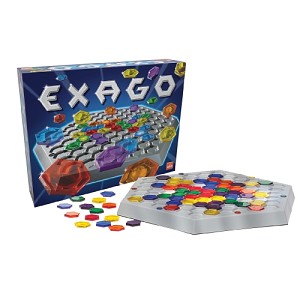 Exago is a "four in a row" game with a twist!
Each player tries to get 4 of their tiles in a row, but other players can strategist and block your moves!
Sound easy? It depends on your opponents. Hubs loves strategic games and rarely ever loses, thanks to his math and logic skills.
Exago can be played by 2 to 6 players, ages 7 and older.
Exago would be fun to pull out after the family holiday dinner, instead of vegging in front of the TV!
Exercise your mind and have fun with this high quality game!
Goliath Games has 16 unique, high-quality games in their repetoir.
Check them out for the game lover on your list!
Thank you, Goliath Games, for sending us review samples of That's It! and Exago. My family and students are grateful!