Several weeks ago I was the lucky winner in a giveaway at Momma Findings blog for a set of Glitterful Felt Stories.
These are felt flannel board sets crafted by a former preschool teacher and mother of three. She has a big variety of reasonably priced felt sets that are based on popular children's books and songs.
A lot of our favorites are represented in her store, like Chicka Chicka Boom Boom, Freight Train, Goldilocks and The Three Bears, The Rainbow Fish, and It Looked Like Spilt Milk!
I was so excited to get these because Jojo is 4-years-old and is really starting to take an interest in learning to read.
He loves books of all kinds, and the interactive approach to literacy that Glitterful Felt Stories offers is perfect for his little active mind!
We have the book and flannel set for The Old Lady Who Swallowed a Fly. I plan on taking these to Jojo's preschool class to use for a special story time session!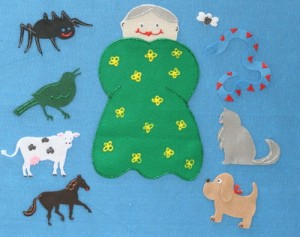 We also have the set for Where the Wild Things Are, which is one of Jojo's very favorite books. I think he identifies strongly with Max. And Jojo likes to dress up in costumes, too.
Be sure to check Glitterful Felt Stories every Monday. On New Story Monday, you can get the brand new debut story for the week at half price, all day!
On Monday, November 3rd, the half price story will be The Three Little Pigs!
At Glitterful Felt Stories, you will also find a nice selection of adorable hand puppets.
If you took the Handmade Pledge this Christmas, or if you are looking for a special, quiet, no-tech gift for the child in your life (the best kind, in my opinion!), definitely go browse at Glitterful Felt Stories!
*Update! Now Mom Most Traveled readers can save 10% of orders from www.GlitterfulFeltStories.com. Use the coupon code Mama10 during the check-out!*
With the 10% offer, you could score the Three Little Pigs felt set on Monday for around $4! Now that's a deal!
Thanks for this generous offer, Shelby!
You can visit Shelby's blog this week where you can enter to win a flannel board and two Glitterful Felt stories of your choice! Contest closes November 8th.