Shelby, the mompreneur behind Glitterful Felt Stories, recently contributed a guest post about her experience adopting domestically.
Shelby has also donated a prize to our Celebration of Adoption!
At the end of this post, you can enter to win a 11X14 flannel board and one regular cut story of your choice!
Glitterful Felt Stories first came onto my radar because I won a set in a giveaway back in October.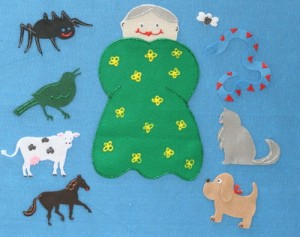 I chose The Old Lady Who Swallowed a Fly and Where the Wild Things Are.
These were stories that Jojo and Deeds already really enjoyed, but I have to say that using the felts in conjunction with reading the books makes story time really special.
Jojo is 4-years-old and I can't even express how proud he is when finding and displaying the correct felt cut out as my husband reads the stories out loud.
It is one of those things that he talks about long after the books have been put away!
We have also recently added Goldilocks and The Three Bears to our Glitterful Felts collection!
Many classic children's favorites are available at Glitterful Felt Stories, like Chicka Chicka Boom Boom, Freight Train, The Rainbow Fish, and It Looked Like Spilt Milk!
To enter to win a 11X14 flannel board and one regular cut story of your choice, visit Glitterful Felt Stories and comment here with your favorite felt set not mentioned in this post!
One winner will be chosen at random.
This giveaway is open to US residents.
This giveaway will close on February 4, 12 midnight CST.
*Congrats to Leah!*
Also check on Shelby's blog for another Glitterful Felt Stories giveaway, starting January 26th!