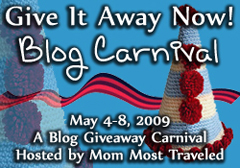 Hi, giveaway enthusiasts! This is THE blog carnival post!
The Spring carnival is over, so mark your calendar for the Summer Blog Giveaway Carnival at Mom Most Traveled: August 17-21, 2009
!
The Linky will be right here on Monday morning, so come post your giveaway at 8 am CST!
If you aren't sure about how this works, please read the rules and get ready!
I am hosting a great giveaway for a home soda maker, yay! I can't wait to see all of the prizes to be had.
If you participate in Give It Away Now! as a giveaway host, your link on the master list grants you entry into an exclusive contest for hosts only!
One giveaway host will randomly be selected to win a Starter Set from LaundryTree.com, which includes enough SoapNuts to wash 40 loads of laundry, plus a wash bag and bottle of essential oil in the scent of your choice! Fun bonus, eh?
If you have fun at the carnival, mark your calendars so you can participate in the next one!
Summer Blog Giveaway Carnival at Mom Most Traveled: August 17-21, 2009

Fall Blog Giveaway Carnival at Mom Most Traveled: November 9-13, 2009

End of Winter Giveaway Carnival at Mom Most Traveled: February 1-5, 2010