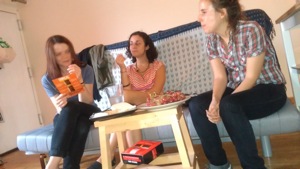 As part of Global Influence, I was given the chance to host a party to share UNREAL™ candy with my friends.
UNREAL is unjunked™  candy made with all natural colors: red from beet juice, blue from purple cabbage, and orange from achiote seed. Natural beeswax and carnauba wax give the UNREAL™ shine
While it is still candy (not health food) you don't have to feel guilty about eating UNREAL. 
I really loved UNREAL NUMBER 8, a chocolate bar with peanuts and caramel. When I ate it, I felt like someone who was tasting a real apple pie for the first time, after thinking that McDonald's apple pies WERE real all of my life.
It is that eyeopening delicious!