In New York, grocery shopping is a pain in the buns. For one thing, we don't have cars, most of us. And even the ones who do are not going to take our cars to the grocery store because by the time you pay for 45 minutes of parking (if you can find a place in the garage), you might as well have gone out to a steak dinner. So that means you have to be able to physically heft everything you purchased up and down subway stairs, and several blocks, probably about a minimum of a half mile. We have all experienced the horror of wondering if the plastic bag handles are finally going to make our fingers chop off due to lack of blood circulation. I seriously think i got nerve damage my first year in New York from having a heavy grocery bag in the crook of my elbow while riding the subway (there were no seats that day).
Besides, that, the grocery stores are tiny and I have rarely had the experience of getting everything I need in one stop.
So, with the above tribulations in mind, I am now one of the biggest fans of Peapod.com, an internet grocer that has been around for TWENTY FIVE YEARS (I had to google and make sure the internet was that old).
Peapod.com can be used in all of the 5 New York boroughs and the prices are competitive with regular grocery stores. In fact, I found that the prices on produce and fresh foods are often times much lower on Peapod.com than in "real stores".
I ordered a bunch of essentials late one night and set my delivery window from 6pm to 8pm  a few days later, on a Monday night.
I got a text at about 4:30 pm that day that said the delivery might be about 40 minutes later than originally estimated, but ultimately it was still delivered in that original window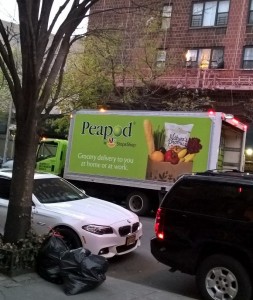 I live on the third floor of my building but I got a text saying "your groceries have arrived", so I ran to the window to see. The driver then saw me staring at him through the window (and waved) which made me seem like I had been creepily sitting there for hours waiting for him. Which I kind of was but, still.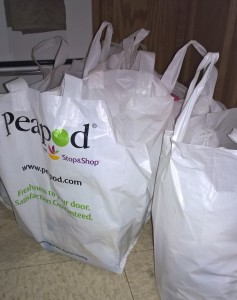 The groceries were divided in a sensible manner, with all of my frozen goods together.
My fridge started out looking like a super embarrassing "bachelor fridge". Here we have butter, eggs, cold pressed coffee, and one beer that my neighbor gave to me: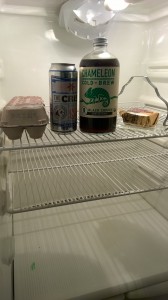 And AFTER my Peapod delivery, it looked like a produce paradise with apples, almond milk, and greens: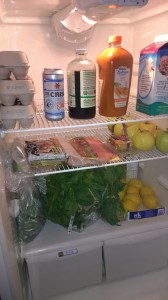 I even got myself fresh flowers! The daffodils were only $5 for 20 stems!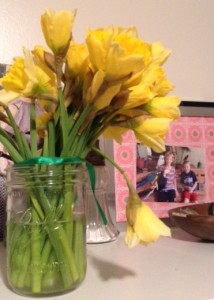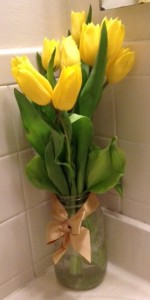 There is no other comparable flower delivery this cheap. I give Peapod.com five stars for being awesome and giving me an excuse to buy flowers for myself.
I can definitely see Peapod being a lifesaver as a single mom, not having to leave my kids at home or drag them with me to get essentials. Also it just FEELS GOOD to have a stocked fridge, and to not be limited to buy only what I can carry in my two hands.
Follow Peapod on the social channels! New Yorkers and Brooklynites, be enlightened!
I was given Peapod credit to facilitate this review. I really do think it is awesome and I loved my flowers. I really did get possible nerve damage on my forearm from groceries. I really do hate going to the grocery store in New York, an activity that I find enjoyable both in the suburbs and in foreign countries.