StyleUnited.com is a fun website that kind of gives me the feeling of having savvy virtual girlfriends to help me choose skincare, haircare, cosmetics, and fashion pieces that are right for my body and match my sense of style.
I signed up to try the new site and I know I will be going there again and again. Unless a bunch of fashion design students and professional make up artists become my besties. Which could happen.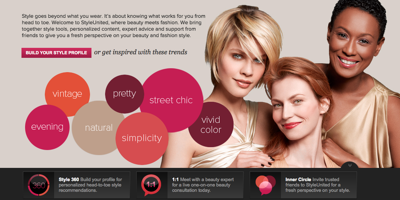 There are How-To videos in the Tips and Trends section…I really needed this one about How To Apply Smudge Proof Mascara! What about the age old conundrum, What to Wear to a Wedding?
StyleUnited features hundreds of articles, slideshows, blog posts and how-to videos from P&G and industry experts, including influential stylists, bloggers and online editors.
I took a quiz in Style 360 and found that my fashion look is EDGY AND BOLD with a hint of FLIRTY ROMANTIC. Then I got to look at styles that I might like based on my quiz results. It was pretty fun!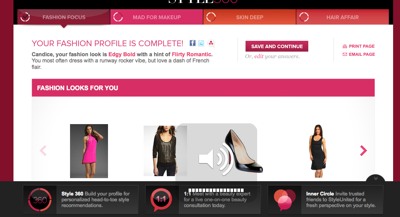 You can also get free one-on-one live consultations with professional beauty consultants using online video technology! The consultants can see and understand your beauty and fashion concerns and provide assistance based on personal traits such as skin and hair types.
StyleUnited can be found at www.StyleUnited.com, on Facebook at www.facebook.com/StyleUnited and on Twitter at www.twitter.com/StyleUnited.
Be sure to enter the  StyleUnited: New View, New You Giveaway, where you could win one of two $500 shopping sprees at Macy's or Nordstrom! Yeah! I'm all about winning a bunch of awesome! Enter by June 8th!
I blogged about this as a part of SheSpeaks. I was told I would receive P&G Products but so far I have not. These opinions are my own.