I have been out of the gym for about a year now. I went from working out EVERY week day for about two years straight, to an entire YEAR without stepping foot in a gym.
The most searched New Year's Resolutions, according to google, are:
"Get Healthy" – over 62 million searches
"Get Organized" – over 33 million searches
"Live Life to the Fullest" – nearly 19 million searches
"Learn New Hobbies" – over 17 million searches
"Spend Less/Save More" – nearly 16 million searches
"Travel" – nearly 6 million searches
"Read More" – over 4 million searches
Now, I do want to be healthy. I do want to be organized. I do want to learn new hobbies. And I feel like all of those three, plus "live life to the fullest" are reached in part by having an exercise routine.
I had heard good things about Orangetheory Fitness before I was contacted to do this campaign, but I am always skeptical of anything that is "popular".
I have lots of experience doing Crossfit, so I figured that any other group exercise class would not be a challenge to me.
I. Was. Wrong! Holy cow!
Orangetheory Fitness is set up so that an entire group of people can receive personal training instruction for an hour long class via a real human AND immediate feedback on their performance via heart rate monitor displayed on a TV screen.
On the first class, you are supposed to arrive a little early so that you can sign release forms and get briefed on the class and fitted with your heart rate monitor.
They showed me how to use the rower, and what buttons to push on the treadmill. I didn't really know how the class was going to work, but it is circuit training. One group of people starts the class on the treadmills, and a second group starts on the rowing machines. Some core work and some weight training are also a part of the rowing machine time.
At your treadmill station, the trainer instructs the class when to slow down and when to pump it up. You can look on the TV screen to see where your heart rate is, so you can decide if you personally need to work harder or back off a little.
I am crazy out of shape after a year at behind a news desk, and my heart rate was off the charts! However I didn't feel like I was about to faint, so I kept pushing.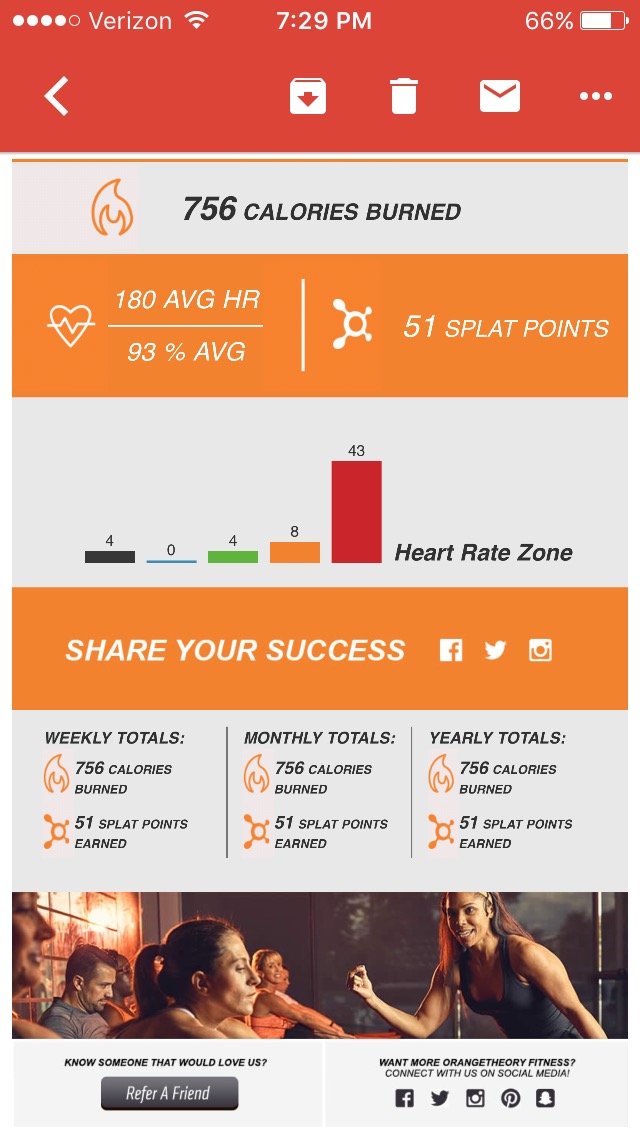 We rotated through more than one session at each station, and when the hour was over I felt like a super athlete (that needed more training), and the trainers led us through some stretches to cool down.
In an hour, I burned over 700 calories! Woohoo!
Since it was my first class, the trainers debriefed me with the other first-timers.
They also offered me another class at a discounted rate, because they said it was possible that my heart rate monitor was malfunctioning.
The next day, I got married. See? This stuff really works!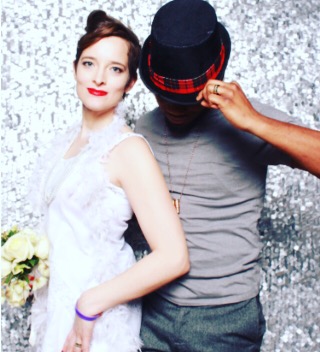 I worked out in Brooklyn Heights, but just this month, Orangetheory will open a NEW location in Park Slope, Brooklyn. This is VERY close to my home, so I predict that I will have no trouble meeting my fitness goals for 2017.
My friend who is a huge Orangetheory fan lives in Pennsylvania, so I recommend looking at what is available in your area! If you live in Park Slope, make me go with you!