I went to a free screening of Fun Mom Dinner as a guest of Momentum Pictures.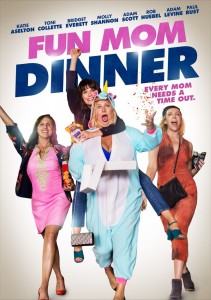 In my younger years, my friendships were based on commonalities. We had similar interests and goals and the same sense of humor.
Once I became a mom, I made friends with other moms whose kids were in the same developmental stages as mine. I noted, mentally, many times when the kids were in their younger years that I would not have probably ever encountered these other women in "real life," but our kids brought us together.
Recently I got to screen Fun Mom Dinner, a comedy starting four hilarious moms whose only common ground is their kids' preschool class. They decide to get together for a "fun mom dinner," which starts on a tense note, but turns into an epic, unforgettable night thanks to the combination of alcohol, karaoke, and drunken night swimming.
The women realize they have more in common than motherhood and men.

I watched Fun Mom Dinner on my headphones with my kids in the room, and I laughed so many times at the numerous killer one liners.
The real treat was getting to meet the cast! I want to be their best friends!
They seemed to have had a wonderful time on set, and there were lots of laughs on the panel. They all shared a love of 80's teen movies like 16 Candles.
After meeting them, I had to take the Fun Mom Dinner Quiz , and found out that I am a total Jamie (Molly Shannon)!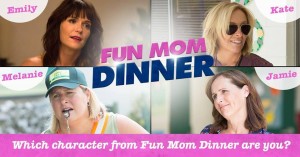 Which #FunMomDinner mom are you? Take the quiz to find out!
Fun Mom Dinner – In Select Theaters and On Demand August 4
Twitter | Facebook | Instagram | #FunMomDinner
I went to a free screening of Fun Mom Dinner as a guest of Momentum Pictures.