I love cheese, and I don't care who knows it!
I'm excited about Borden® Cheese's new line Singles Sensations™; it's like gourmet cheeses in the "singles" packaging so that you can easily slap it on your favorite sandwich.
Yummy sounding flavors like Applewood Bacon Cheddar, Sun-dried Tomato Basil and Southwest Pepper Jack; how delish would that be for a grilled cheese sandwich?
Borden® Cheese extends their support to farmers by channeling 100 percent of the proceeds from their products back to hard-working American dairy farmers and their families.
Now, to celebrate this yummy new cheese and to honor those who give back to their communities, the makers of Borden® Cheese are holding a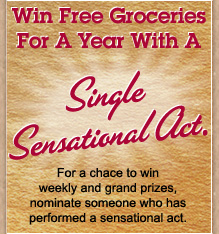 contest to find people who have transformed their community from so-so to sensational.
Starting TODAY (March 16), contest participants simply log onto FriendsofElsie.com and share their stories or nominate a friend, family member or co-worker.
Friends of Elsie members vote for the most sensational story each week, and the grand prize winner at the end of 20 weeks will earn free groceries for a year!
One (1) Grand Prize: Free groceries for one (1) year for the entrant and the individual nominated in the essay. Prize will be awarded in the form of twelve (12) American Express Gift Cards with a $433 value on each card (total value of $5,196 each).
This contest ends on August 2nd!
Leave me a comment if you nominate someone, so I can be sure to vote for you!
Also check out more giveaways around the blogosphere this week, listed on my Treasure Map Linky!