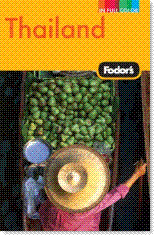 I was excited to have the opportunity to review Fodor's Thailand, 11th Edition: With Side Trips to Cambodia & Laos .
But now that I am sitting down to write about it, it is quiet a difficult task.
Why? Because I have been to Thailand more than 30 times in the past 6 years. Not to mention all of the time I have spent in Laos.
Thailand is very dear to me and in some ways very familiar.
Happily, there are lots of places that Fodor and I agree are "must see", but of course some places were left out that I personally would have included.
However, I also recognize that MOST people who are traveling to Thailand and using a Fodor guidebook aren't going with young children in tow. So, where I get excited about a good zoo, they would be more excited about something called "night life". Go figure.
When going to a new and exotic place, I put great importance on knowing something of the history and culture.
Here, Fodor does a very thorough job, devoting a large section to Understanding Thailand, which touches on language, culture, religion, and food.
Fodor's Thailand, 11th Edition: With Side Trips to Cambodia & Laos is also visually rich, with more than 250 color photographs.
There are also great color maps, which will be handy when walking or communicating with a taxi or tuk tuk driver.
The areas of Thailand that I am most familiar with are Bangkok, Northern Thailand, and Isan.
In the Bangkok section, I was happy to see Jim Thompson's House , Chatuchak Weekend Market included as "musts"!
Also in the guide are great suggestions for restaurants, hotels, and entertainment.
I'm not familiar with Khaosan Road where all of the backpackers spend their time; in fact I encourage you to get OUT of that (shady) area and explore the rest of the city.
Whenever I go to Bangkok, I always think satisfied thoughts about how Bangkok is the perfect balance of East meets West. The best of both worlds!
Chiang Mai is a favorite Northern Thailand destination for foreigners of every corner of the globe.
My "must do" things in Chiang Mai would be a visit to the Night Bazaar, taking a Thai cooking class, the Chiang Mai Zoo, a visit to Mae Sa Elephant Camp, and dinner at Whole Earth.
In the Isan area, I'm most familiar with Nong Khai and Udon Thani.
In agreement with Fodor, I can endorse the Ban Chiang Hotel, , Charoensri Grand Royal and City Lodge Hotel as good places to stay in Udon Thani, as I have been to each of them more than once!
In the Isan region of Thailand, Nong Khai is the "end of the line". From there you can cross the bridge by bus, and cross the boarder to Laos, in Vientiane.
I think it is great that Fodor's Thailand, 11th Edition includes enough information about Laos and Cambodia to get you by on a short boarder hop (just a couple of days). If you want to spend more time, I would recommend getting guidebooks specific to Laos or Cambodia.
The language barrier in Thailand can be a frustration, especially in the less developed parts of the country. To make yourself clear, other than taking Thai lessons (snicker), I recommend the book Me No Speak. It is a a passport-sized, 95 page booklet with pictures and Thai phrases written in both Thai and English. Just flip open the book, and point to the picture. Bingo, you have communicated with a Thai person! Pictures and point-to-phrases; so easy a caveman could do it.
They also have Me No Speak books in Mandarin and Japanese.
I'm in love with Thailand and could talk about it for ages; I have had to show great restraint in this post so that it won't be the length of the guide book (over 600 pages!).
At Fodors.com, you can find information about all of the Fodor's guides, as well as an online community of travelers who can answer your questions about your next destination.
Thanks to the lovely people at Fodor, I have FIVE guidebooks to giveaway. You can choose from these three new editions: Thailand, Israel, or Turkey!
1). To enter to win, leave a comment here letting me know which title you want to win (Thailand, Israel or Turkey), and where you dream of traveling?

2.) Email subscribers get an extra entry for as long as their subscription is active.
Already a subscriber? Leave me a separate comment on this post to let me know you're interested in this giveaway.
Want to subscribe? Just click here:  Subscribe to Mom Most Traveled by Email (Only verified subscriptions are entered for all the giveaways.)
3) You can tweet about this giveaway once each day for extra entry. Be sure to include a link to this post and @MomMostTraveled. Or, just copy and paste this text below for your tweet:
Fodor's Guidebook giveaway @MomMostTraveled 5 winners! http://bit.ly/aNb1n
Leave a comment here for each tweet. Be sure to include your twitter ID.
4.) One extra entry for every social bookmarking site you submit this post to (examples: Digg, StumbleUpon, posting on Facebook). Leave a comment for each with your user name.
5.) Blog about this giveaway, including a link to this post.
This giveaway is open to US residents. This contest will close on October 16, 11:59pm CST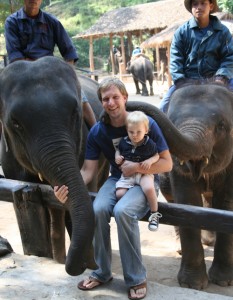 Disclosure: Fodor's gave me one Thailand guidebook for the purposes of this review. Over the past 7 years, all of my traveling in Asia has been paid for by myself and my husband. The country of Thailand did not pay me to enjoy my time in their country. I just actually like going to Thailand. This statement is for the benefit of the FCC and FTC. My appologies to intelligent readers everywhere.