Jennifer asked me to share six things that make me happy. In no particular order:
comments on my blog posts (for real)
chai tea
getting a massage
cool shoes
finding an adventure every day or finding adventure IN the every day
learning new things as a family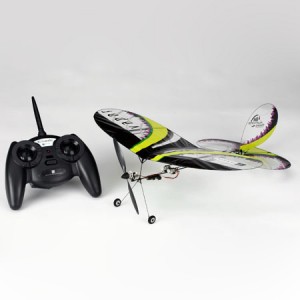 We have recently had an AMAZING opportunity to learn something new.
Do you know anything about flying model planes? Me either, but we are the proud owners of a Vapor RTF by Parkzone.
I am excited by visions of spending quality time with my boys flying model airplanes, but I have never even seen anyone fly models in real life.
I asked Dave Mathewson, President of the Academy of Model Aeronutics (AMA) some questions about starting out.
Mom Most Traveled: "When is a good age for children to get involved with model airplanes and helicopters?"
Dave Mathewson: Model flying is for all ages – we've got members as young as four years old who enjoy model flying. It ultimately depends on the interest of the child and once you introduce a child to model aviation they tend to set their own level of involvement, just like other activities. It's important to let a child learn at a pace they're comfortable with which will make it more enjoyable for them.
MMT: "What is a good "starter" model for children who have never had a model plane before?"
Dave Mathewson: Many of the new slow, light-weight, electric powered models are ideal for learning to fly. They're fairly easy to fly and in most cases resilient enough to take a pretty good beating during the learning process. A search on the Internet, reading almost any model aviation magazine, or a trip to your local hobby shop will help identify the different models that fit in this category.
MMT: "What advice can you give to parents for facilitating play and maximizing learning when introducing a model airplane to their children?"
Dave Mathewson: To help ensure that the child's experience is a positive one, I would suggest locating a local Academy of Model Aeronautics (AMA) club in your area. (you can check out http://www.modelaircraft.org to find one).
Most have programs that teach newcomers to fly. A local hobby shop can also probably help identify an appropriate club or program. We've also found that children become and stay more involved if it's an activity shared by a parent. We have many "model aviation families" within our membership. Many of us got our start in model aviation because it was an activity one or both of our parents enjoyed. Model aviation truly is a recreational and educational activity the whole family can enjoy.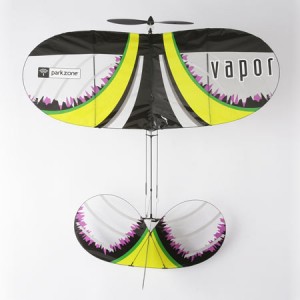 Radio-controlled model airplane flying is making a come back!
The active, fun and challenging hobby allows kids to pilot their model planes through the skies while they stay safely on the ground.
The Vapor RTF by Parkzone is an extremely light (called ultra-micro), relatively slow radio controlled airplane that is great for beginning fliers!
The Vapor RTF comes already assembled and ready for action as soon as you open the box. Click here for an amazing 360 degree view!
The wings are about 14 inches across, and the plane weighs less than one ounce (about 12 grams).
It comes with a DSM2 transmitter, a battery charger and batteries. The battery is tiny, and recharges in only 20 minutes.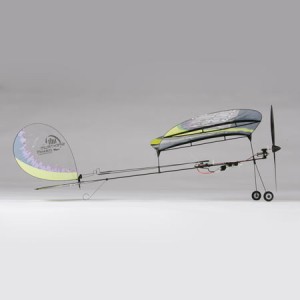 The Vapor RTF is so light, small and easy to maneuver that you can actually fly it indoors without trashing your living room (turn the ceiling fan off first)!
You can control the throttle (for speed), the rudder (for steering) and the elevation.
Talk about fun! This baby flies like a humming bird!
Nothing will elevate your status of "hero" quite like your little ones catching a glimpse of you piloting a radio controlled aircraft!
The Vapor RTF is easy to pilot and is suprisingly tough!
I thought because of the teeny-tiny size that it would be quick to break, but the carbon body will definitely survive those accidental crashes.
With practice, you can do cool tricks with your Vapor RTF, like loops or flying it straight up and down.
Here is a YouTube video of a boy flying his Vapor RTF through the open window of an SUV. And crashing it into the camera man.
The AMA website has lots of inexpensive planes for beginners as well, including this neat rubber band powered plane that sells for $6.99.
I may be getting ahead of myself, but I'm dreaming about the fun we have flying model planes resulting in an interest in the science of how flying works, which in turn will inspire my children to reach great academic heights.
Even forgetting the kids; you know that Dad would love one of these for Father's Day or some other gift-giving occasion. He would be the envy of the guys at work as he flies his Vapor RTF around the office.
Flying model aircraft is a great activity for spending time outside together. The AMA website has lots of neat aviation-inspired activity items. This fun pocket kite is next on my list for Jojo!
The Vapor RTF retails for $129. One Mom Most Traveled reader can win his or her very own Vapor RTF!
Woot woot!
To enter for your chance to win, visit the AMA shop and find something that your family would like to have. They have all kinds of things; from toys, to arts and crafts, to collectibles. Comment here with what you found. Also in your comment, tell me what excites you about the idea of flying model aircraft in your family.
This giveaway is open to US mailing addresses.
This contest will close on February 27, 12 midnight CST.
*Congrats to Maggie!*