BelVita Biscuits are tasty little cookies specifically engineered to be enjoyed at breakfast and supply you with fuel for the whole morning.
I LOVE cookies, and I have a dairy allergy so I'm not all about yogurt and that sort of thing in the mornings.
Usually I just eat fruit (like a two or three apples) and a coffee or tea for breakfast. When the weather isn't freezing, I have smoothies, but I can't stand to drink something cold when it is too cold outside to feel my fingers.
I undertook a Five Days of belVita Breakfast task. Typically I paired my delicious pack of 4 breakfast biscuits with fruit, coffee or tea, and juice.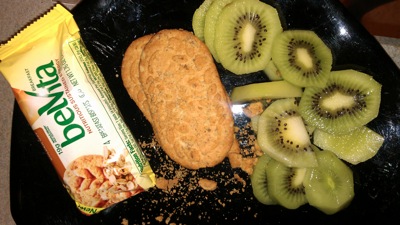 On the first day of breakfast, belVita gave to me….a convenient package of breakfast biscuits that I munched while walking to a farmer's market.
On the second day of breakfast belVita gave to me…ONE almond milk latte, ONE kiwi fruit, and a pack of tasty breakfast biscuits with delish little dried blueberries in them.
On the third day of breakfast belVita gave to me…ONE subway snack, ONE giant coffee, and one 12 ounce nondairy chai.
On the fourth day of breakfast belVita gave to me…ONE sliced apple, TWO green teas and 4 tasty breakfast biscuits.
On the fith day of breakfast, belVita gave to me…one spoon of peanut butter, two kiwi fruits, one green tea one pack of Apple Cinnamon belVita biscuits, and one very delicious subway ride.
These are a really fun "on the go" whole grain solution. In 4 Apple Cinnamon flavored belVita biscuits you got 20 grams of whole grain. They contain wheat and soy and do NOT contain dairy or eggs.
I was actually surprised by how much I love the convenience of belVita breakfast biscuits. They are great to pop in your bag and nosh on after a morning run, a bike ride to work, or during your morning commute.
Besides the convenience, they taste like cookies!
Now I have to wait for belVita to invent Lunch Biscuits.
Hurry!

"I wrote this review while participating in a blog tour campaign by Mom Central Consulting on behalf of belVita Breakfast Biscuits and received belVita Breakfast product samples to facilitate my review, and a promotional item to thank me for participating."