This has been one of those weeks that Busyness hid around the corner, jumped out, and put me in a headlock for three days.
The first day of school for the boys was also my first day of teaching for the school year…in fact, Deeds is in my class!
Jojo loves being a Kindergartener and is trying to sound more mature lately.
Deeds is enjoying 3K and is keen to follow the routine each day, usually being first at the snack table.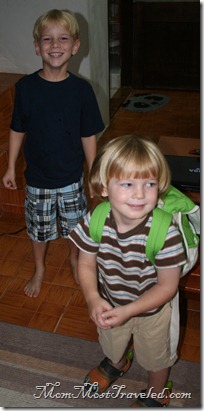 Deeds celebrated his first day of school accomplishments with a chicken feet feast. As a vegetarian for 15 years, I do not endorse this, but I am not one to miss a photo op.