My husband and I are film makers. We have a DSLR but sometimes it is too heavy to lug around. Our iPhones have excellent resolution but filming on them runs the risk of looking unprofessional
Recently we got a Stedicam Volt, the first handheld electronic stabilizer for android or iPhone shooting!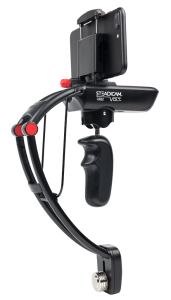 The Volt has a 3-axis gyroscopic stabilizer which can be set to "Movie" or "Sport" mode. This means you can run down the field capturing your sporty spice in action, without getting that Blair Witch Project-style jolting disorientation.
The Steadicam Volt weighs only one pound; I carry it around in my purse. It is totally worth it for increased mobility and stability, giving me pro-quality iPhone videos. My husband and I are really excited about the possibilities with The Volt!