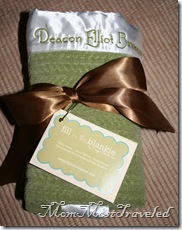 Fill-in-the-Blankie is a special, meaningful gift for babies, toddlers, and new parents!
"Personalized" used to mean that you could have baby's initials monogrammed onto to an item; Fill-in-the-Blankie blankets are ULTRA-personalized, allotting up to 200 characters on each of your blanket's four sides!
That gives you 800 characters to create a heartfelt keepsake that is sure to be cherished for a life time.
You can create your blanket to commemorate any occasion you like: a newborn baby, baptism, a birthday, baby's first Christmas,Easter, or "gotcha day" for adopted children!
If you have trouble finding the words to express your sentiments, Fill-in-the-Blankie has an inspiration page to help you get past blankie writer's block.
Deeds has a little bit of a satin addiction, so I wanted to personalize a blankie that he can drag around wherever he goes!
On one side, I chose to put his full name.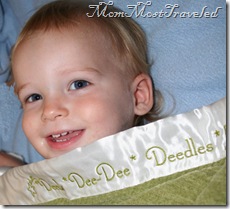 On the second side, I wrote, "Papa, Mama, and Jojo love you!"
On the third side, I wrote all of his special nicknames: "Deeds * Dee-Dee * Deedles * Bacon" ("Bacon" is courtesy of Jojo)
On the fourth side, I gave Deeds a blessing, "The Lord bless you & keep you"
I am confident that Deeds will treasure his blankie for a long time, and when he outgrows the blankie stage, this Mama will keep our Fill-in-the-Blankie safe
Fill-in-the-Blankie has lots of options for cottony soft blanket fabrics, and each blanket trimmed with a silky-smooth satiny edge.
It's lots of fun to create your Fill-in-the-Blankie online: you can play "designer" and choose from 32 blanket styles and colors, 27 fonts and 12 embroidery thread colors
Fill-in-the-Blankie is a truly unique and quality gift idea that is sure to be given pride of place by the recipient. This is one shower gift that won't end up in the garage (or the consignment shop!).
Fill-in-the-Blankies start at only $39, and are shipped to you within 3 to 7 business days!
We at Mom Most Traveled are so in love with our Fill-in-the-Blankie; I can't wait for a reason to make another one!