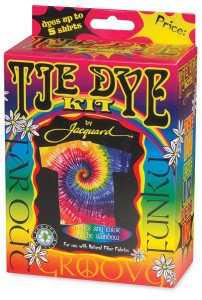 Okay, I will admit it. Deep down inside, I want to be the "cool mom" to my kid's friends.
I think I have found a pretty cool summer activity that will have the neighborhood kids flocking to my back yard: the Jacquard Funky Groovy Tie Dye Kit!
This is kit is only $11.95 and has everything you need (except the actual clothing item) to dye up to 5 adult sized shirts!
You get pre-measured dye in red, blue and yellow plus 1/3 lb Dye Fixer, 3 Squirt (mixing) bottles, a pair of rubber gloves, a bunch of rubber bands and easy-to-follow instructions with suggested tying patterns.
This would be great to do with a small group of friends, or venture beyond the world of tees and dye some pillow cases, socks, handkerchiefs, or something else that needs to be a little more funky!
To tie dye a white cotton t-shirt (or anything else) takes just three steps: (1) wet garment and tie with rubber bands; (2) soak in soda ash and mix the dyes with tap water; then (3) apply dye, wait 24 hours, rinse, wash, dry and enjoy!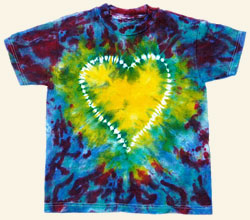 I browsed the Jacquard website and found some tutorials on how to dye in a spiral pattern or a heart pattern! There is even a tie dying forum so you can get your questions answered by pros!
This groovy project is recommended for children ages five and older (with supervision of course! These are permanent dyes, you know!).
Jacquard Products makes professional-quality textile paint and dyes at great prices.
In fact, the Jacquard Funky Groovy Tie Dye Kit won accolades from the Parents' Choice Foundation because of the ease of use and professional results!
If you have a larger group of tie dyers, try the Jacquard Tie Dye Kit, which allows you to dye up to 15 shirts. The cost is reasonable, at $19.95. You would definitely be the hit of the sleepover or scout meeting!
Enter to win a Jacquard Funky Groovy Tie Dye Kit!
1.) To enter to win a Jacquard Funky Groovy Tie Dye Kit, browse the other Jacquard Products and and leave a comment here with another item or kit that caught your eye!
Please don't just comment with "Enter me" or "Sounds great". That totally annoys me. Those entries are not eligible to win.
This contest will close June 20, 2009, 11:59 CST.
Browse more giveaways here, or list your own!